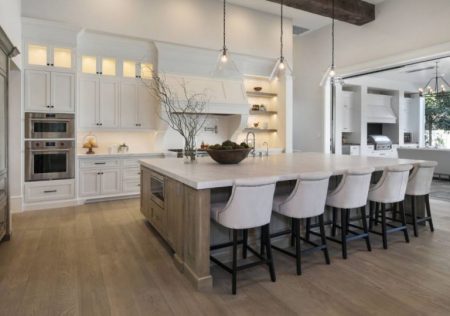 Think all the way back to January of 2020. We posted a blog forecasting what would be the trendy designs of 2020: Predicted Trends Of 2020. Now that the year is nearing an end, we can ask the question… were our predictions accurate?
Patterns
At the beginning of the year, we were confident that veining would continue to capture the attention of homeowners everywhere. This prediction was spot on! Materials like quartz keep adding to their options of colors designed to resemble slabs of natural stone, like granite & marble. A veining pattern in countertops continues to wow audiences.
Colors
If you recall, we believed that bold colors would emerge in 2020. Black appeared to be replacing the all white kitchen trend and exotic colors started showing up more frequently throughout 2019. However, 2020 showed an affinity for soft, neutral tones. Soft grey, white, and beige shades were far more prevalent in countertops than dark colors and pops of vibrancy.
Wood Aesthetics
We imagined that light wood would move in for 2020. In previous years, lighter shades of wood were rarely incorporated. However, we were right about homeowners lightening things up in 2020! White, light, and bright continued to take over decoration trends throughout the year.
Gold
Has 2020 decor been the gold rush that we expected? The answer is yes! Gold has been a popular choice to use in making a statement with home design this year. In fact, navy and gold appears to be a favorite color scheme for many over the past few months. People have adored adding pops of gold throughout their homes.
Islands
We felt confident in claiming that kitchen islands would continue taking off. Islands have flourished possibly beyond even what we expected! When it comes to this functional feature in 2020, bigger is better! People have craved more island space and been incorporating it gorgeously into the room. We foresaw double islands growing in popularity. That, they did. Previously, it may have been rare to enter a kitchen and see a double island; however, it is not so uncommon now.
Did you follow along with the trends, or did you choose a more out-of-the box design? If you are curious as to what other Cameo customers have done, you can check out our Residential Portfolio. You can also look through our Instagram, @cameocountertopsinc, and Facebook, Cameo Countertops Inc.