Want to take your kitchen or bath design to the next level? Customized edge profiles on your beautiful countertops can
make the most of the material you choose, and they give you a chance to express your own unique sense of style. After
all, the details matter most.
Eased:
An eased edge, the most common edge type, is a 90-degree edge that is slightly rounded or eased in order to reduce the sharpness of your countertop and to help prevent breakage. This profile is a clean, simple design that is common in contemporary spaces. It especially makes black granite or other colored countertops appear the thickest. Eased edges also offer the best in functionality because they are easy to clean and will not hold food and liquids, unlike other more intricate edges.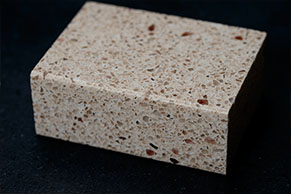 Crescent:
The crescent edge is a soft curved profile that mimics the traditional bullnose edge, but adds a slightly more acute aesthetic. This profile is alluring in its simplicity and works well with more modern design schemes.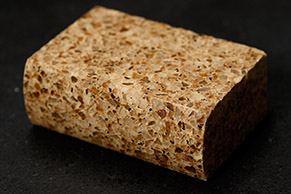 Bevel:
A beveled cut is a traditional edge reminiscent of classic stone architecture. Also called a chamfer, a bevel is a cut made at a 45-degree angle along the top edge of the granite. Beveled edges come in many variations, including double bevels that feature the top and bottom edge cut at an angle or combining a bevel with other edge styles. In the past, a beveled edge was a sign that the stone countertop was cut from real stone. Today, even laminate countertops can be cut with a bevel.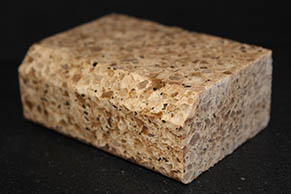 Full Bullnose:
Full bullnose edges are popular because they add a warm and soft profile to the countertop. They are also a good choice for a bathroom that will be used by small children, as they lack sharp corners or edges.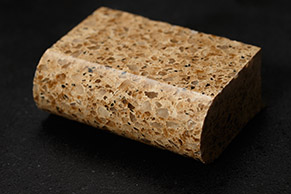 Half Bullnose:
The half bullnose adds an alluring curve to a countertop. This is the best standard edge if you want to display how thick and solid your granite countertop is because it shows a greater cross-section of the slab.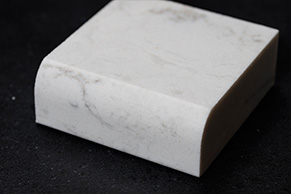 Waterfall:
The waterfall edge presents the stone with the appearance of mass and thickness, while being very soft to the touch and easy to clean. A waterfall edge is a great choice for quartz materials like Corian Quartz, Silestone and Viatera.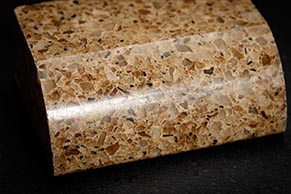 Waterfall Leg:
If you want drama in your kitchen, then you might fall in love with waterfall edge design. The term waterfall refers to the way granite slabs run down the edge of an island and extend all the way to the floor. This show-stopping installation style adds impact by displaying your stone like a piece of art. It also anchors the room and creates a beautiful focal point. The waterfall edge complements both contemporary and traditional kitchens by giving a modern twist to granite with a more intricate pattern.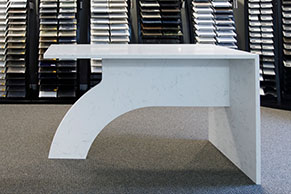 Triple Waterfall:
The triple waterfall edge takes a dramatic look to the next level. This edge adds levels to the waterfall design. It makes a counter look sturdier, as it creates an illusion of thickness. Because the design makes the counter top smaller than the bottom, the edge also draws the eye to items on top, such as small appliances or flowers in a vase.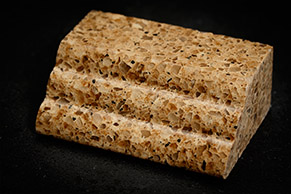 Chiseled Rock:
If you want to make a strong statement that you have stone countertops, then this is the edge for you. We literally chisel the edge of the stone to look like the raw edge of broken stone. We do, however, slightly soften the sharp edges and then apply a sealer to give it color.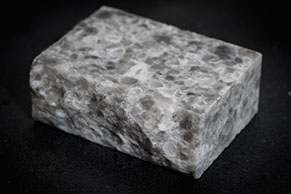 Small Ogee:
A premium edge really draws attention to your granite countertops. An ogee edge offers an eye-catching and elegant detail that resembles two sweeping arches that form an s-shaped curve. This type of edge is timeless and fits perfectly in traditional kitchens. Despite its great level of detail, the ogee edge does not have sharp edges that could cause injury.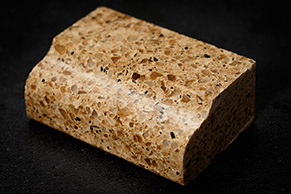 Large Ogee:
This is a deeper and bolder version of the small ogee edge. It is a softer more flowing version of the classic ogee edge. Due to the amount of material it removes, we do not recommend it for exotic granites with numerous crystal formations.