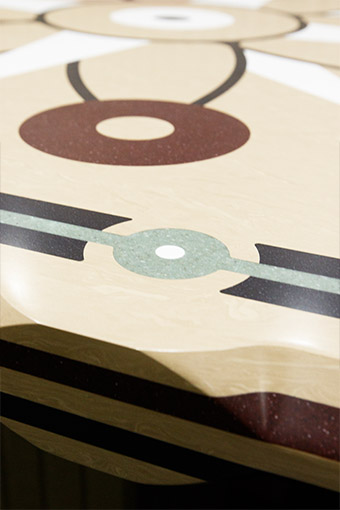 If words like "durable," "long lasting" and "easy-to-clean" sound like music to your ears, then a solid-surface countertop is the kitchen surface for you. Cameo's solid Surface products bring versatility to design and the ability for integrated sinks and backsplashes. This acrylic material is becoming more popular with homeowners, architects and designers as it is resistant to heat, scratching and bacteria – this makes Solid Surface an excellent choice for a kitchen or bathroom.
Solid surface countertops have been around for over 50 years now and are a mainstay in kitchens and bathrooms. Solid surface is a perfect mid-range countertop material. Buyers not interested in laminate but still looking for an affordable countertop often gravitate to solid surface. It is one of the counter materials that can be resurfaced with just an orbital sander.
Solid surface materials began with DuPont's Corian. The idea behind its invention was to have a surface that looked reasonably like natural stone, but unlike stone, would be non-porous. When you slice granite open, you will see a wild, chaotic conglomeration of particles forming the slab. While this is beautiful, it offers multiple avenues for cracking and breaking.
The word solid in solid-surface reinforces the idea that this is a stable base, unlike bouncy laminates that are mounted on medium-density fiberboard.
But solid has another, more important, meaning. DuPont's intent was to create a surface that was the same from top to bottom, a homogeneous product. A cross-section of solid surface shows that you can keep delving deeper into it and still get the same product, and this is essential in terms of damage repair.
Solid can mimic the appearance of granite, marble, stone, and other naturally occurring materials, and can be joined nearly invisibly by a trained artisan. Typically manufactured in sheet form for fabrication into finished countertops, solid surface can also be cast into a variety of shapes, including sinks, shower pans and bathtubs. Sheet goods can also be heated and bent into three-dimensional shapes using a process called thermoforming, which adds to the versatility of the product. Color and design flexibility are key factors when choosing engineered composites over natural stone.