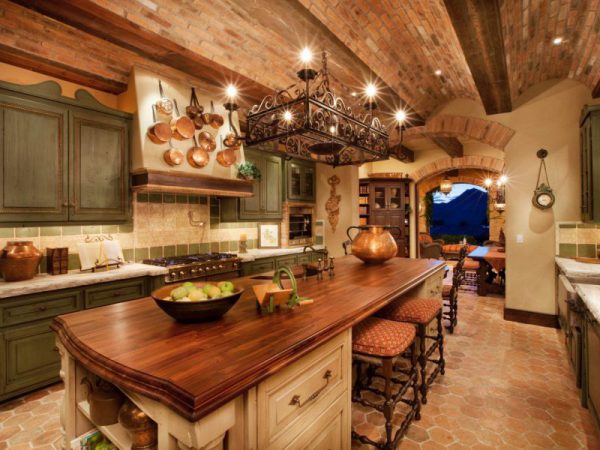 Tuscan style is a timeless look that has been adored throughout history. It derives from the rolling hills of Central Italy. This look is inspired by elements of nature. Characteristics of a Tuscan style include rustic stone farmhouses, crumbling stone walls, marble patterns, wrought iron, and hardwood furniture. Any room can benefit from this look, but we are going to tell you how to design a timeless Tuscan kitchen.
History
Tuscan style has been popular for ages. As mentioned, it originated from the rich culture of Italy. To better understand this look, here is a brief review of Italian traditions.
In addition to focusing on beauty, Italian culture favors history and remembrance of the past. It is an understandable pride, considering the impressive historical canon known as the Roman Empire. Although a Tuscan decor is not directly Roman, many themes overlap. Characteristic features include:
Woven baskets and containers
Clay and ceramic pottery
Roosters (in any aspect of design)
Grapes
Wine and Chianti bottles
Iron, bronze, or copper fixtures and sconces
Functionality
The family unit is extremely important in Italian culture. A common Italian tradition is to gather extended families as a large group every Sunday for a multi-course feast. For this reason, spacious kitchens are a necessity. Stoves and ranges are also usually larger in Italian kitchens to accommodate the frequent gatherings. Tuscan kitchens almost always feature a hearth structure over the stove.
As Tuscan kitchens tend to be on the larger side to accommodate many guests, extra cookware is necessary. Do not skimp on cabinet space when designing this classic look, those additional cabinets are needed to store plenty of cooking supplies! After all, the aim is to have a kitchen ready to wow AND entertain guests.
Aesthetics
Italian culture has a strong appreciation for aesthetics and a zest for life. Just think of the craftsmanship within their art and architecture. Tiny details are never overlooked here, nor should they be in your kitchen.
In regards to Italian architecture, rounded archways are very prevalent. Tuscan architecture also favors decorative woodwork like corbels, columns, or molding. All detailed or raised paneling compliments this style, especially when a glaze is applied to highlight the workmanship. This style also requires texture. To gain textural interest, look into stucco or lime-wash walls and different countertop finishes.
Tile is another crucial element of Tuscan design. It is a great way to incorporate natural stone and bring in the appropriate Tuscan colors. Classic Tuscan colors include cream, green and red. If these sound familiar to
you, take a look at the Italian flag! In more modern times, people incorporate rich yellows and olive green with deep purples as an accent. Bring in marble (or marble mimicking quartz), tumbled stone, and/or terracotta for the floor, backsplash, and anywhere a mosaic to build a gorgeous aesthetic.

Now that you have a sense of the style, it is time for you to create a Tuscan kitchen of your very own. We are ready to help you customize your kitchen to compliment this classic look, as well as portray your own unique flare.