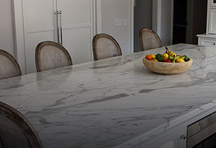 Quartz and marble are both very popular countertop materials. Colors of quartz have been made to mimic the look of marble, adding a striking appearance to any home. With some colors, it is difficult to tell which material it actually is. So, if you love the look of marble, which material is the right choice for you?
Appearance
Veining patterns have been all the rage. This eye-catching look appears in homes everywhere. Whether it is in countertops, backsplashes, or showers, homeowners are craving this look. Although marble may have introduced veining, quartz has joined in by offering a myriad of marble mimicking options.
Marble is a natural stone. Each slab of marble is produced by the Earth and no two are the same. There are both pros and cons to the appearance of natural stone. On one hand, you will have your own unique pattern that nobody else has. On the other hand, it can be unpredictable and pose some difficulty in designing around. Quartz, however, is man-made. Because of this, patterns are predictable and can be controlled to look a certain way.
Durability
Marble is primarily made of calcite, making it a soft, porous material. It can absorb liquids and is prone to stains. Calcite also reacts poorly with acids and alkaline substances. Common kitchen substances, like lemon juice and vinegar, can cause etching and dull spots. Made of mostly quartz, quartz countertops are far more durable. They are non porous, so they do not absorb liquids or stain easily. They are also far more sturdy than marble is when it comes to daily wear and tear.
Maintenance
Due to its tendency toward staining and etching, marble is considered a high maintenance countertop material. Sealers do help prevent damage by buying you time to clean spills before they cause permanent damage. Although sealers are very necessary, they cannot transform marble completely into a highly durable material. Even with a sealer, you must be cautious when exposing marble to household cleaners. You must stick with cleaners that have a neutral PH or are specifically marketed for marble. When stains do occur, a poultice can be used to help try to erase them. This can be effective for certain removals; however, it requires a lot of time and effort.
Quartz countertops are an extremely low maintenance choice. They do not require sealing and are safe for numerous household cleaners. When a spill does occur, quartz typically allows you to simply wipe it up worry free.
Regardless of the material chosen, these countertops will make a beautiful addition to your home. However, there are large differences between the two when it comes to maintenance and durability. Knowing the above information, which one best fits your lifestyle?