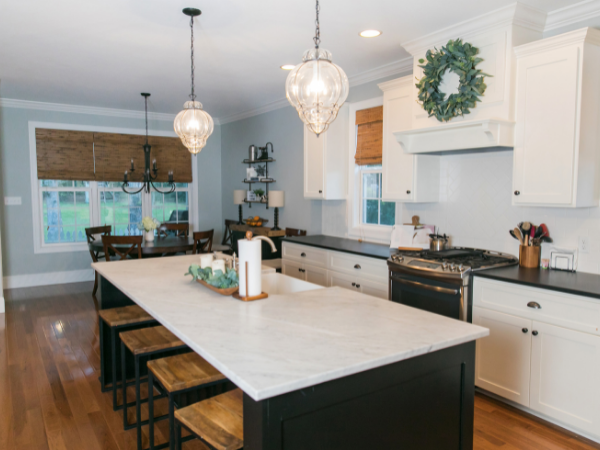 Quartz countertops gained popularity in recent years as a granite alternative. You get the look and feel of stone in an environmentally friendly and durable package. Quartz countertops are easy to maintain and durable, making them an excellent choice for well-used kitchens.
Choosing a quartz countertop involves building the rest of your kitchen decor around one unique element. Before selecting a quartz countertop, you may want to consider what decor styles go best with quartz counters!
Keep It Traditional
Since quartz countertops can mimic real marble, it's possible to create a clean, traditional space. Plus, quartz counters cost far less than marble ones, which leaves more room in the budget for other upgrades.
To achieve this look, pair the quartz countertop with a matching subway tile backsplash and classic cabinets for an updated yet traditional feel, or use matching quartz counters and backsplashes with traditional cabinets to create a cohesive look.
Go Contemporary
Quartz is perfect for creating a functional, minimalistic, and contemporary kitchen. From stunning waterfall islands to fabulous counter and backsplash combos, quartz countertops cap off any contemporary kitchen.
Pair clean white countertops with darker minimalistic cabinets to create a chic space. If white counters turn you off, opt for a sleek gray with slightly darker cabinets and minimalistic hardware. For the boldest kitchens, try a fierce black quartz bold colored cabinets to make a true statement.
Farmhouse Fresh
Bright, airy, and functional designs make farmhouse kitchens appealing. It helps to have a functional, easy-to-clean countertop, so quartz is an obvious choice.
To capture this aesthetic, try white on white with quartz countertops against a matching backsplash to set up a farmhouse kitchen feel. Complete the aesthetic with vintage hardware and lighting set off by reclaimed wood or shiplap ceilings and floors, deep sinks, and farmhouse decor. Modernize the look and feel with stainless steel appliances.
Earth-inspired
Start with an earth-tone quartz countertop and build a clean, green aesthetic that's eco-friendly and serene. Quartz works well with taupes, greens, and blues to add color and depth to a kitchen while creating a sense of calm.
Pair the counters with natural wood colored cabinets and minimalist hardware. Get creative with unique backsplashes that incorporate earth tones in patterns or different shapes, like hexagons for a honeycomb appearance.
Industrial or Rustic Chic
There's a fine line between these two aesthetics, and it's not the countertop. A quartz countertop could be the foundation for a cool industrial aesthetic with open shelves, pipes, and stained wood cabinets. However, that same countertop could set the scene for a rustic kitchen with log cabin paneling and cobblestone backsplashes.
Create Contrast
Thanks to quartz countertops, designers can create contrast in several interesting ways. Setting a plain white or gray countertop against bright colored cabinets can set off a room's personality without additional decor. Likewise, choosing a dark countertop and hardware with bright white cabinetry can lead to a remarkable space.
Optimizing color palettes isn't the only way to create contrast and an appealing kitchen. Choosing a veined quartz countertop and echoing the design throughout the kitchen can be compelling.
Choosing a Custom Quartz Countertop
When you choose quartz for your kitchen countertops, you get a custom piece to fit your space. From contemporary to traditional and everything in between, you can achieve almost anything to fit your tastes. However, you probably want to work with a skilled manufacturer who can deliver the color, design, and quality you desire.
At Cameo Countertops, we love crafting custom spaces for Northwest Ohioans and strive to deliver the best customer service around. We use quality materials to create custom designs that meet our customer's needs, and we would love to show you what we can do for your space. Contact our sales team to request your quote today!