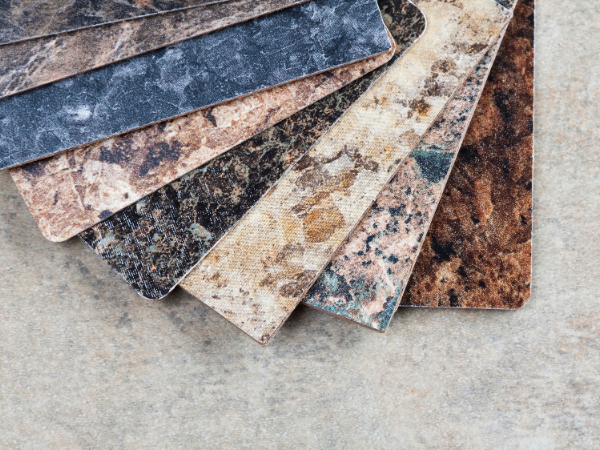 Granite is a natural stone that is a popular choice for kitchen countertops due to its functionality and versatility. Granite comes in many different styles with unique variants and color palettes, ranging from white to pink, gray, and black. How can you choose which one will best match your kitchen and cabinets with so many granite countertop colors available?
Understanding Color Schemes
You want all components of your kitchen, from cabinetry to tiles to countertops, to coordinate. The countertops in a kitchen make a statement and can make or break the room's look. For example, dark granite in a small enclosed kitchen with little lighting will make the room feel even smaller. Make sure the counters you choose enhance your space.
The colors of all the kitchen components, from cabinets to tiles to counters, should form a cohesive look. On the color wheel, colors opposite each other are complementary, and colors adjacent to each other are analogous. Neutral colors, including white, beige, gray, black, and brown, are usually used in kitchen design to temper the colors and tie them all together.
Many people choose to have their counters contrast with their cabinets. If your cabinets are dark, choose a lighter granite for visual contrast. For lighter cabinets, choose a darker granite. White and lighter-hued granite, in general, work well in a small kitchen by visually opening it up and creating a lighter, airier ambiance.
A monochromatic design uses colors of the same hue, such as white. Solid white cabinets, flooring, and countertops are too stark of a look, so you will want to bring in other colors or variations. For example, white granite with gray veining would pair well with white cabinetry. To tie the gray color into your kitchen, you can add metal hardware to the cabinets or a gray backsplash for a cohesive look.
Decide on Your Overall Kitchen Look
Are you going for a sleek, modern look or a timeless, classic feel? Kitchen colors do trend in and out of style, like clothing, although some outdated features are making a comeback now.
Decide on the overall color scheme of your kitchen. Do you want your counters to be a complementary color to your cabinets, contrasting color, or to stick with a monochromatic scheme?
If this all seems like too much for you, our team can help with your project planning and even offer a template design so you can see your vision come to life before committing to it.
Absorbency
Since granite is a natural stone, no two slabs will be identical. There are variations in nature, even in stone of the same type. This is why it is important to see the exact slab of granite that will form your counters.
Ideally, you should select the granite before the cabinetry. You can stain the cabinets a custom color to complement the granite, but you cannot change the granite color. If you already have your cabinets, bring along a sample when you shop for the granite. If you are buying new kitchen cabinets, you can ask for a sample to bring along with you to the granite showroom. If you are keeping your existing cabinets, you can remove a door from one of them to take along.
● Dark cabinets, including stained wood in espresso, pair well with lighter-colored granite for a nice contrast. Look for granite that has dark flecks or veins to bring it all together. Black cabinets pair well with Arctic White's black and gray specks or Moon White granite.
● For red-hued Cabinets, including cherry wood and mahogany, look for a light granite that includes the cabinet color in its design for a beautiful complimentary look. Colonial White granite with specs of rose and Kashmir White containing flecks of burgundy are good options.
● You can match brown cabinets with a patterned granite that brings out the cabinet's richness or a neutral granite for a lighter look. Desert Brown's base color has varying shades of brown with flecks of color that go well in a traditionally designed kitchen. Blue Pearl, with its blue and gray flecks, can provide an interesting contrast to brown cabinets.
● White cabinets are versatile, and you can pair them with darker granite countertops for a contrasting look or white-based granite for a sleeker design. Nero Fantasy and Black Pearl are two examples of beautiful black granites that provide a stunning contrast to a white kitchen.
To Summarize
There are so many granite countertop colors and patterns, and choosing the right one for your kitchen can seem overwhelming. At Cameo countertops, we can help you make the right choice for your kitchen. We've been servicing Ohio since 1992, and there's no project too big or challenging for our experienced team. Contact us today, or bring a sample of your cabinet with you to turn it into a fun and satisfying experience.