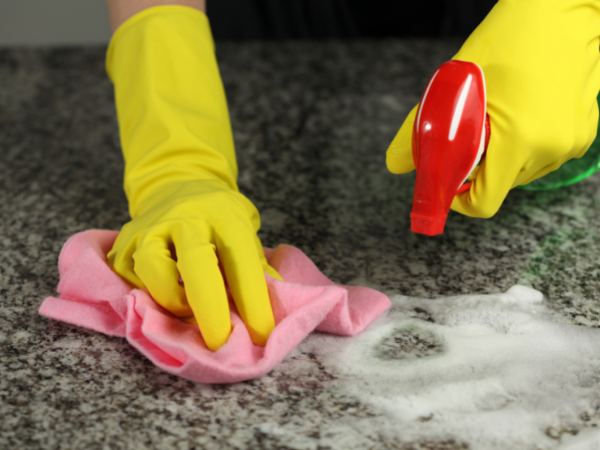 The kitchen is often the most lived-in room in many households across America. As such, it sees a lot of action – from everyday meal prep to intensive holiday cooking, chopping, and baking.
Repairing and remodeling kitchens is a costly feat, which is why protecting your countertops is so critical to maintaining an attractive and functional kitchen design.
At Cameo Countertops, we want the best for your kitchen counters. Below, we'll discuss a few easy ways you can protect the surfaces that take the most heat.
Use Protective Tools
As the main surface area in your kitchen, your countertops are home to a lot of different actions. You probably use them to hold pots and pans, to slice and dice fruits and vegetables, and as a resting place for your morning cup of coffee.
Because they come into contact with so many different tools and objects, you must use protective tools to keep them in tip-top shape.
Some of the most common tools for protecting your countertops include the following:
Cutting boards

Potholders

Spoon rests

Coasters
All of these tools create a barrier between the object you're using and the surface of your counter. For example, you should always use a cutting board when chopping, slicing, or cutting food items. Doing so will prevent you from leaving scratches and marks on your countertop.
Coasters also provide a safe place to put down cups and mitigate the risk of leaving watermarks and rings on your counters too.
Oven mitts and pot holders can protect more than just your hands from a hot dish or pan. You should never place a hot container on your countertop, as it can leave an unsightly burn or mark beneath it. Always place a pot holder down first as a buffer.
Apply Appropriate Cleaning Products
Contrary to popular belief, there's no one-size-fits-all solution for every kind of countertop. While many people may reach for prevalent items like bleach or vinegar, the truth is, you may be doing more harm than good.
Below is a list of common countertop materials and suggested cleaning products for each:
Laminate: bleach, lemon juice, vinegar 
Granite: granite/marble cleaners, non-acidic cleaners, baking soda
Marble: dish detergent, borax, granite/marble cleaner
Silestone: mild soap and water, white vinegar, baking soda
Stainless steel: baking soda, white vinegar, stainless steel cleaner
You should always do solid research before using a new product on your countertops. Using the wrong product can result in dull colors and permanent staining, along with scratches and fading.
In addition to using the proper cleaning agent, you should also always wipe up spills as soon as they happen. The longer a spill sits, the longer it has to soak into your countertop and leave a stain.
Seal As Necessary
Some countertop materials need to be resealed consistently. Sealing countertops regularly will continue to protect them from the everyday elements of your kitchen. On the other hand, failing to seal them promptly can allow liquid to soak into the pores, which causes permanent damage and stains.
Most natural stone materials need to be sealed and resealed on a regular schedule. These materials can include:
These natural stone materials are porous, which means they will easily absorb the various liquids of your kitchen if they are not sealed. However, the fact that they are porous means they will also absorb a sealant, leaving them protected.
Customized Protection
Here at Cameo Countertops, we offer custom solutions across a wide range of surfacing needs to make sure homeowners have lasting countertops for years to come. Since 1992, our Ohio-based company has offered full-service countertop services packed with professional knowledge, experience, and quality products.
We make it our goal to cultivate a productive and positive relationship with all of our customers. Call today to schedule an appointment with one of our friendly sales representatives, and enhance your countertop experience.