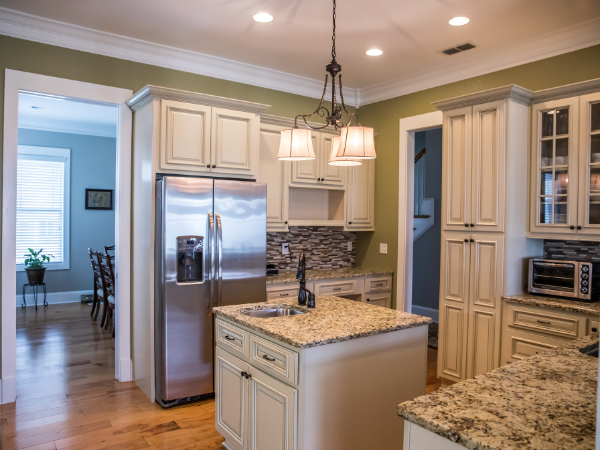 Remodeling a kitchen or bathroom is an exciting time for homeowners. One of the showpieces in any room is the countertop. Choosing the right one is imperative to complete the look of your home. Granite, a naturally occurring stone formed by geological forces over millions of years, is a top choice in many kitchens and bathrooms.
So what does the average homeowner need to know about this enigmatic stone?
1. Limitless Design Choices
Granite is a genuinely versatile stone that will work with whatever color palette you choose. Keeping home decor cohesive is an essential consideration in both kitchens and bathrooms. Because of their unique mineral makeup, granite slabs are literally one of a kind. It comes in limitless colors and patterns, and the design elements are also numerous.
Edge Options
Available in shiny or matte options, homeowners also have many edge options. The ogee edge is the most traditional and provides a nice aesthetic with an S shape. If that's not the option for you, consider a beveled edge with an angle cut along one or more edges. If this is still not the look you're going for, you have several other choices, including (but not limited to)
● eased (square),
● bullnose (half circle),
● natural (chiseled/rough).
Thickness
Make sure to check for any imperfections on the slab. Also, slabs usually come in ¾ inch or 1¼ inch thickness. Consider which choice of slab thickness will work best for you. A ¾ inch slab will require a plywood sub-top, while a 1¼ inch slab does not, and you may have more edge options. Also, understand that an overhang of nine inches or more will require corbels for support.
2. Durability
Granite will last for years upon years, so choosing the right options mentioned above is important. Granite countertop installation is a popular choice for both professional and home kitchens. Though this material is extremely durable, you should still use a cutting board to prepare meals in the kitchen because a granite countertop will actually dull your knives.
If you're thinking about putting hot pots or pans directly on it, you may want to use a potholder or trivet. Yes, granite is tough, but extreme temperature changes could mar the finish.
3. Strong, but Not Indestructible
While granite is one of the strongest stones, you can damage it like any other surface, so it is important to properly care for it. For example, directly placing a tool like a hammer on your countertop isn't the best idea. Lastly, should your granite chip at the edge, repairs are possible, but make sure to use professional services.
Absorbency
Be aware that some granites are more absorbent. You can test the absorbency rate with a scrap piece and lemon juice. If you put lemon juice on the scrap and spots appear, that might not be the right choice for granite countertops.
4. Maintenance
The most important thing to do in regard to maintenance is to talk to your installer about how to care for your granite countertop installation properly. You will want to make sure to choose the right tools and products to maintain your granite.
Never use acidic, abrasive, or high alcohol content cleaners on your granite countertops, as they can dull or mar the finish. You can further prevent damage by initially sealing the countertop with our 15 or 25 year sealer.
5. Cost
Kitchens and bathrooms are two of the most used rooms in our homes. It is important to choose a material like granite for its beauty and brawn. However, remodeling a kitchen or bathroom can be costly.
While a granite countertop installation may be more expensive than other options, prices have decreased significantly over the years. Such a wide range of choices exists that you most likely can find an option that fits your budget.
Keep in mind that a thicker slab might cost more. Also, finding a rare variety in pattern or color might increase the price tag. By choosing trustworthy installers that provide quality products, your investment can last for years, making it well worth the cost.
Contact Us
When thinking about choosing a granite countertop for your home remodeling project, you'll want to choose a company you can trust. Servicing Ohio since 1992, our trusted team at Cameo Countertops can help you in every step of the process of remodeling your countertops.
Granite countertops will prove to be an integral, beautiful part of your kitchen or bathroom and will last for years to come. Contact us today to request a quote or for help with any inquiries you may have on getting started with your vision.