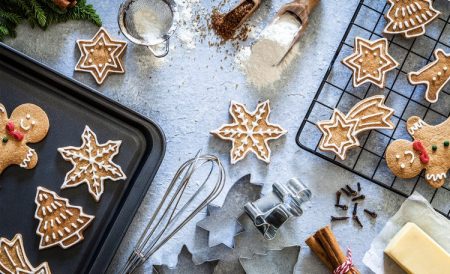 Your stunning countertops are not the only thing that you can customize in your kitchen… Cameo wants to help you customize your Christmas cookies too! Sugar cookies are an age-old holiday classic. Like beautiful patterns in your countertops, why not add some pizzazz to your cookies this season? We have listed a base sugar cookie recipe to begin with. From there, you can customize as you please with some of our suggestions that are sure to sleigh the competition!
Base Sugar Cookie Recipe
Ingredients
-1 1/2 cups powdered sugar
-1/2 teaspoon almond extract
-2 1/2 cups all-purpose flour
-1 teaspoon cream of tartar
Directions
1. In a large bowl, beat 1 1/2 cups powdered sugar, the softened butter, 1 teaspoon vanilla, the almond extract and egg with an electric mixer on medium speed, or mix with a spoon, until well blended. Stir in flour, baking soda and cream of tartar. Divide dough in half and shape the dough into 2 disks. Wrap them each in plastic wrap and refrigerate them for at least 2 hours.
2. Heat oven to 375°F.
3. Roll each disk on a lightly floured surface until 1/4 inch thick. Cut into desired shapes. On a cookie sheets, place cutouts at least 2 inches apart.
4. Bake for 7-8 minutes, or until edges are light brown. Cool for 1 minute, then remove from cookie sheets to cooling racks to cool completely.
Peppermint
Peppermint sugar cookies bring a festive flare to a holiday classic. Simply add 1 teaspoon of peppermint extract. To really show off your Christmas spirit, finely crush a couple candy canes or wafers to mix in as well.
Red Velvet
Red velvet desserts beautifully compliment Christmas displays. To transform your classic cookies, add 1 teaspoon of salt and 2 tablespoons of cocoa powder. Of course, you will need to create the aesthetic with red food coloring. Mix in a few drops as you blend the other ingredients until your cookies are red enough to remind you of Rudolph's nose!
Gingerbread
What flavor says Christmas more than gingerbread? Gingerbread sugar cookies allow you to combine two holiday favorites! You will need to add 2 tablespoons of molasses, 1/2 teaspoon of allspice, 1/2 teaspoon of ground cinnamon, and 1/2 teaspoon of nutmeg. With these cookies, you can have the best of both worlds!
Nutella
For these creative cookies, scoop a small amount (depending on the size of the cookie cut outs) of Nutella and drop it in rows onto a baking sheet. Freeze the Nutella drops for 2 hours. Once they are solid, place them onto uncooked cookies on a baking sheet. Add another identical cookie on top and pinch them together to create a sandwich. Your cookies will bring a joyful, Nutella surprise!
Coffee
Who doesn't love to cozy up with a cup of coffee during Christmas time? What is even better is having coffee sugar cookies to go with your cup of joe! They require 1 teaspoon of instant coffee added in with the dry ingredients. These go great with a salted caramel icing to create a caramel macchiato cookie!
Chai Lattee
These cozy cookies will really wow your family! For these, you will need to add 2 teaspoons of honey, 2 teaspoons of ground cinnamon, 1 teaspoon of ground cardamom, 1 teaspoon of ground ginger, 1/2 teaspoon of allspice, and 1/2 teaspoon of cloves. They may require a lot of additional ingredients, but they are well worth it!
Now, go put your custom countertops to work in testing out these custom recipes! While baking, be sure to take the proper precautions to keep your countertops safe. Use cutting boards, trivets, hot pads, and wipe up spills immediately. We would love to hear from you on which recipe was your festive favorite!