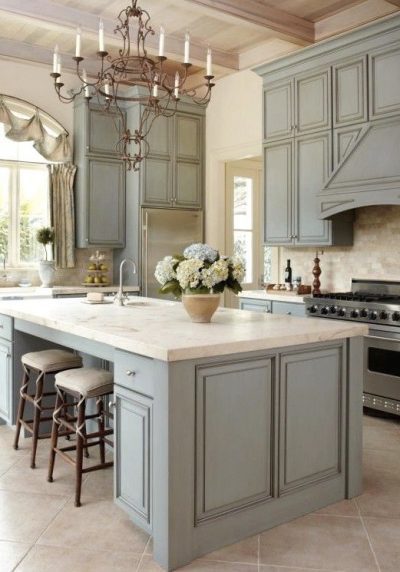 Country style kitchens have become increasingly popular in recent years. This style creates a farm house feel by incorporating wood, distressed finishes, pastel colors, floral print, and other country touches depending on the home owners' preferences.
Subtypes
Country style kitchens can actually be divided into subtypes including: Spanish Country, French Country, and American Country. A French Country kitchen is elegant with rustic accents that give off a feeling of Parisian shabby chic. It does so with crown molding or scalloped edges, cabinetry that resembles traditional furniture, and rustic accents. A Spanish Country kitchen individuates itself with arched doorways, light maple colored paneling, and often cream colored countertops. This style really highlights Spanish architecture. The key feature of an American Country style kitchen is a very open floor plan that gravitates towards a more modern feel. American Country style is most typically seen in media. The divisions all share common elements, but with their own identifiable flares.
Color Pallet
When it comes to color, country style kitchens often feature plenty of white, cream, and ivory.   These kitchens stick with colors like sage green, barn red, straw yellow, and periwinkle, to name a few examples. They avoid incorporating anything too stark, too bright, or too dark. The idea of a country style kitchen is to utilize the color pallet to create a cozy feel.
Countertops
A range of materials can compliment a country style kitchen. White quartz and cream granite are two great sectors to consider. Commonly, wood countertops are seen in this style. For those who love the look of wood, but not the maintenance required, we have the perfect solution. Corian® Solid Surface offers colors, such as Mahogany Nuwood and Beach Nuwood, that mimic the appearance of wood, yet offer all the benefits of Corian®. Wood easily acquires nicks and scratches, whereas Corian® is well suited to withstand daily wear and tear. If by chance Corian® does become damaged, it is easily repairable and can return to looking brand new. In addition, Corian® will not delaminate. Wood, on the other hand, poses the risk of delamination.
There is no one right way to create a country style kitchen. Homeowners can add their own personal touches, while still having the farm house feel. This style is suitable to any lifestyle.