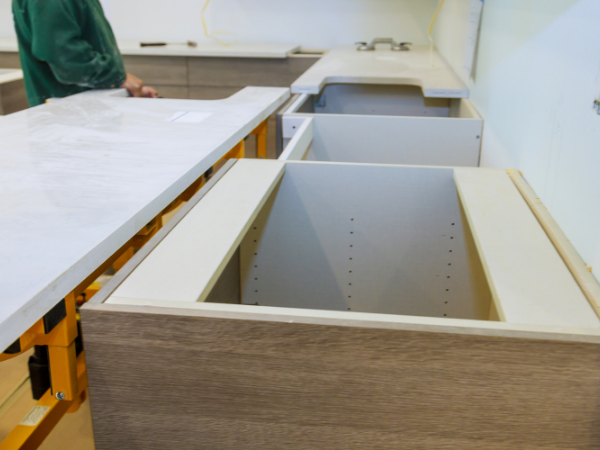 Over time, many people feel that their current countertops are outdated or worn out. Fresh, new countertops can completely change the look of your kitchen. Whether you're upgrading a residential or commercial project, installing high-quality stone, quartz, or laminate countertops will enhance the atmosphere and feel of your space.
Choosing an expert provider and team will ensure an easy, cost-effective, and enjoyable experience as you upgrade the countertops in your home or commercial space. Cameo Countertops will guide you through the countertop installation process from planning until the final stages. Before you begin, here are a few things you should know about how countertop installation works.
1-Project Planning
With twenty-five years of experience, the Cameo Countertops team has the knowledge and expertise to offer informed suggestions for your new countertops. Together we will plan your project to help enhance and modernize your residential or commercial space.
Build to Print: Cameo Countertops offers a build-to-print service for both commercial and residential clients who have access to templating and installation. Our build-to-print option for countertop installation and design manufactures products from your shop drawings and delivers them to the job site for your installation.
Template Design and Engineering: With the complete template design and engineering package, Cameo takes on the full responsibility of collecting measurements and dimensions and designing the products. We also provide engineering services to develop unique or custom products.
2- Material Selection and Design
Decisions, decisions! When designing your countertops, there are many different options, including various styles, colors, and materials. Based on your vision or existing aesthetic, Cameo Countertops will create a unique or custom design to realize your ideal countertop plans.
Cameo Countertops stocks over thirty colors of natural stone to choose from. For your new countertops, you can also choose from high-quality materials such as
Quartz
Solid Surface
Natural Stone
Laminate
Tip: When choosing your materials and design, bring along your paint samples, floor samples, or wood stains to help pick the right countertops that complement your aesthetic and design plan.
Customization: Speak to us about creating a custom manufacturing design using solid surfaces and stone for your project based on your personal vision for your space. We have experience building custom bowls, vanities, and showers, and we welcome the challenge of creating a unique space to help your vision come to life.
Cameo uses digital laser technology to capture the space's exact and precise measurements to accurately plan and design new countertop installation. When executed by our experienced team, this high-tech technique provides high-quality design and installation for projects of all levels of difficulty.
3- Countertop Installation
When it comes to installation, you want to feel confident about your installation crew. After all, you're trusting your home or office space in someone else's hands! The team at Cameo ensures that both our customers and their homes or spaces are treated with respect.
Although the installation process can feel stressful, your countertop installation will be smooth sailing in the right hands.
Cameo Countertops will ensure you feel comfortable and happy throughout your entire countertop installation process. From project planning to material selection and design, right down to the installation, ensure you have a trustworthy and experienced team behind your new countertop project.
Cameo Countertops Inc. is a family-owned and operated team providing the neighborhood with quality products and services for both residential and commercial spaces. We offer the best customer service around! Reach out to us for more information on our services and products or to schedule an appointment.