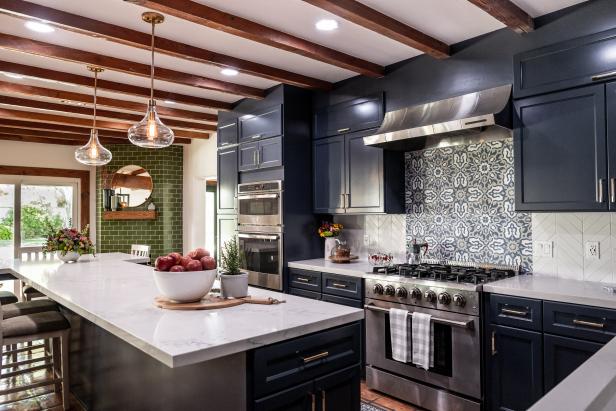 With all of the great tips in each episode, it is hard to separate advice pertaining to one specific aspect. Do not worry about taking notes… we have it covered! We have compiled countertop advice from some of television's most popular design experts!
Jonathan & Drew Scott
The brothers have a knack for creating a luxurious look without breaking the bank. They stress that homeowners can create a gorgeous aesthetic on any budget. They advice, "Don't fall into the trap of thinking you have to go with granite countertops… you can choose from plenty of other great materials without having to overspend, like you might with granite." The brothers emphasize that although granite can be a great option, it is not the only option. They report that there are plenty of other stunning materials that are available at lower costs. For instance, Cameo Countertops' Quartz Value Collection is a low priced collection of quartz However, it offers all of the durability and quality of any other quartz options.
Sarah Richardson
Sarah advocates to have fun mixing and matching in the kitchen. "Blue and white always feels fresh in a kitchen. I customized IKEA Applad cabinets with vintage blue pulls to play up the palette," says Sarah. Describing this design, she states, "The counters are a combo of practical and playful. They're white quartz flecked with shades of blue." Sarah is not afraid to incorporate fun patterns into a kitchen. She advises to make customizing your design fun by mixing and matching!
Joanna Gains
Joanna promotes stepping outside of the box. She enjoys looks that are slightly unconventional when it comes to countertops. In her own home, she uses concrete countertops. She expresses that she loves the timeless, industrial feel of concrete. An alternative to concrete is soapstone. Soapstone is extremely durable and easy to clean, but offers a similar "timeless, industrial feel" as concrete. It also looks similar, commonly offered in shades of grey.
Candice Olson
Candice is a fan of quartz countertops. She states, "White marble countertops are beautiful, but require maintenance. Quartz is an uber-durable, family friendly option that won't stain or scorch." Cameo Countertops, Inc. offers a range of Calcutta quartz colors that mimic marble. All of these colors come with the low maintenance durability that Candice loves in quartz. If you enjoy the look of marble, but want an "uber-durable, family friendly option," as mentioned by Candice, then Calacatta quartz may be perfect for you.
Genevieve Gorder
Genevieve points out that many people gravitate towards the color beige. She likes to mix things up, while still maintaining the versatility in complimenting many other colors. She advices to consider grey colors for countertops. "It's a great alternative to everyone's beige," she says. With grey, homeowners can have neutrality, without having the same color as many others have.
Nicole Curtis
Nicole is adamant about the importance of a well planned kitchen layout that can accommodate modern-day needs. She will go to great lengths to achieve the best functioning layout. She says that if that means re-doing the design a few times, she will do it. According to Nicole, homeowners should really focus on planning a proper layout for their countertops.
If you miss an episode of your favorite home design show, do not worry, we have the countertop part covered. You may not be able to have these design experts come to your home themselves, but that does not have to stop you from taking their advice on countertops. If by chance they do come to your home… put in a good word for Cameo Countertops, Inc. Bugsy would love an autograph!