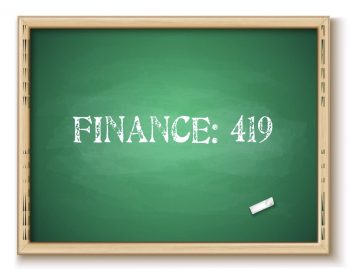 Countertop prices can appear daunting. However, brand new countertops may be more affordable than you think. It can be difficult to piece together information on your own, but you do not have to! In this Cameo Course, you will learn a lesson on finance.
Average Costs
According to Homeadvisor.com, the national average to install countertops in 2020 is $3,284. Cameo Countertops, Inc. quotes differently than many other fabricators. We implement bundled pricing instead of by square foot. Bundled pricing means that each square foot of counter includes standard edgework, rounded corners, and seams if necessary. For instance, some of our competitors may advertise lower square foot pricing, but later implement additional fees for details such as shapes, seams, basic edge profiles, and more. For this reason, when you receive an initial quote, other fabricators may appear cheaper because they are not disclosing the added fees. Cameo Countertops, Inc, on the other hand, strives to price as accurately as possible from the start in order to avoid any surprises after template. Doing this allows us to have greater transparency and provide more accurate quotes for our customers!
If you are curious as to what prices average by square foot, we have included a chart of average price range for countertop materials per square foot.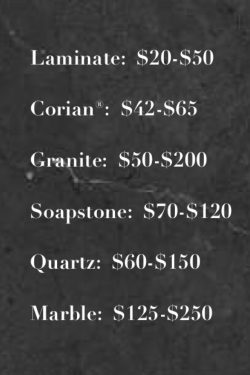 Variations
Prices do tend to vary among materials. Take granite and quartz, for example. The most common choices of granite and quartz are similar in pricing, but granite costs start lower and continue much higher than quartz. The lowest-end granites are cheaper than the lowest-end quartz by usually around 20%. Having said that, the most exotic granites can cost two to three times the amount of the most expensive quartz. If you are looking to purchase in the mid-range of materials, there is not much variation in pricing between granite and quartz.
Additional Factors in Price
The initial cost is not the only cost to consider. Maintenance costs and added home value are both important aspects to consider. For instance, quartz tends to, on average, cost more than laminate to install. However, when considering that quartz is an extremely low maintenance material that actually adds to the resale value of a home, it often saves money in the long run. Choosing the cheapest material may ultimately not be the most cost effective choice.
We hope this lesson in finance helps you to gain a better understanding of countertop costs. Of course, we would be happy to quote your project in order to provide you a much more accurate estimate.