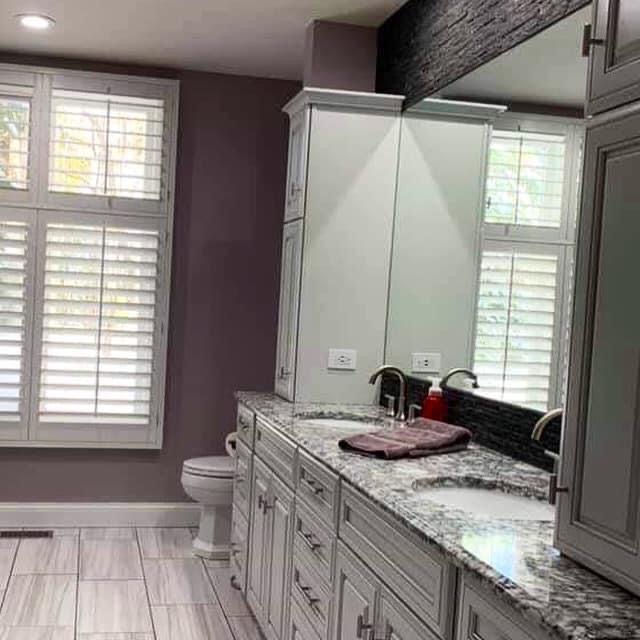 Hot irons, hair products, soap scum… these are just a few things that bathroom countertops are consistently exposed to. They may not be talked about as much as kitchen countertops, but we expect a lot from them! With all this pressure put on them, how do you choose the best bathroom countertops?
Back in the day, bathroom countertops often went overlooked. The options for them consisted of either ceramic tile, plastic laminate, or cultured marble. Cultured marble may sound fancy, but it was not marble at all. It was a dreary blend of crushed limestone held together with plastic resins. Eventually, homeowners caught on to its poor quality and the material has mostly vanished from homes today. Now, bathrooms are receiving some of the recognition that they deserve with high quality materials such as natural stone, quartz, and solid surface.
First, consider the primary needs for your bathroom countertop. Are you planning to have it occasionally used by guests just to wash their hands? Is it going to be put to the test of your daily routine of makeup and hair styling? Will you have the time to consistently clean messes as they happen? These are all questions that affect which material will be best suited for your bathroom.
Natural Stone
Natural stone includes materials like marble, soapstone, quartzite, and, most commonly known, granite.
Pros:
Natural stone is a beautiful material that sends a message of luxury.
Each slab is unique. You can have the knowledge that nobody else has the exact same piece as you.
Cons:
Most natural stone requires some additional maintenance when compared to engineered stone.
It can be of the more costly materials
Quartz
Quartz has soared in popularity over the last few years. With extreme durability and materials made to mimic the look of natural stone, it is not hard to see why.
Pros:
Quartz can be formed into numerous shapes, including countertops with integrated sink basins.
The color and style options are virtually unlimited.
It is one of the strongest materials on the market. It tends to resist damage better than other materials.
Quartz requires little to no maintenance.
Cons:
Seams are less easily hidden.
Engineered stone lacks the uniqueness of natural stone.
Quartz is not as heat-resistant as natural stone.
Solid Surface
Solid surface is a man-made material that can be well suited to any home.
Pros:
Like quartz, solid surface can also be formed into numerous shapes, including countertops with integrated sink basins.
It is nonporous and very easy to care for. It can be easily repaired by sanding.
Coloring and pattern are very consistent, so there is no issue matching pieces and hiding seams.
It is cost efficient.
Cons:
The appearance can have an artificial look.
Solid surface is not as heat resistant as other materials.
Your bathroom countertops are crucial to your home, so they cannot go overlooked! What is your objective for your bathroom countertop? Is it aesthetics? Is it functionality? Is it cost efficiency? The material best for you depends on what you need. Maybe you can even have some extra fun and choose different materials for different bathrooms!