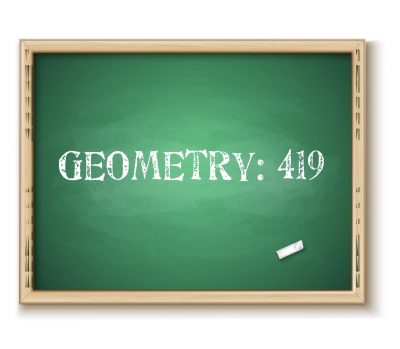 Geometry can be defined as, "The shape and relative arrangement of the parts of something." When it comes to countertops, a right angle (90-degrees) is not the only angle that may be right for you. Maybe you want cute countertops that feature an acute angle (less than 90-degrees), or outstanding surfaces with an obtuse angle (more than 90-degrees). Taking that into consideration, learning about Geometry is very useful in shaping up your countertop design and layout! Lets learn about how you can apply geometry to your countertops…
Edges
We customize countertop edges in many different profiles. With all of the different options, an understanding of geometry comes in handy. Each edge includes unique angles and shapes. Our edge profiles include:
Eased: An eased edge is a 90-degree edge that is slightly rounded or eased in order to reduce the sharpness of your countertop and to help prevent breakage.
Crescent: The crescent edge is a soft curved profile that mimics the traditional bullnose edge, but with a slightly more acute angle.
Bevel: A beveled cut is a traditional edge reminiscent of classic stone architecture. Also called a chamfer, a bevel is a cut made at a 45-degree angle along the top edge of the granite. Beveled edges come in many variations, including double bevels that feature the top and bottom edge cut at an angle or combining a bevel with other edge styles.
Full Bullnose: Full bullnose edges are popular because they add a warm and soft profile to the countertop.
Half Bullnose: The half bullnose adds an alluring curve to a countertop.
Waterfall: The waterfall edge presents the stone with the appearance of mass and thickness, while being very soft to the touch and easy to clean.
Waterfall Leg: The term waterfall refers to the way granite slabs run down the edge of an island and extend all the way to the floor.
Triple Waterfall: The triple waterfall edge takes a dramatic look to the next level. This edge adds levels to the waterfall design.
Chiseled Rock: We literally chisel the edge of the stone to look like the raw edge of broken stone.
Small Ogee: An ogee edge offers an eye-catching and elegant detail that resembles two sweeping arches that form an s-shaped curve.
Large Ogee: This is a deeper and bolder version of the small ogee edge. It is a softer more flowing version of the classic ogee edge.
Layout
Layout options are virtually limitless depending on how eccentric of a layout the homeowner desires. However, the following are some of the most common and functional ways to utilize geometry in kitchen layouts:
One Wall: The one-wall layout is literally just countertops along one wall in a straight line. This layout is common in places with limited space, like apartments and lofts. Sometimes, it's combined with an island.
Galley: The galley layout, also called a corridor, has two straight sections of countertop surfaces, one on either wall. They are often parallel to each other. A gallery layout is essentially a double "one-wall layout."
L-shape: An L-shaped countertop forces the traffic out of the work area, which provides cooks with more work space. Typically, an L-shaped layout features a longer wall with the sink and a shorter surface where the stove and oven are.
Double L: A double-L shaped layout helps divide the kitchen into zones. Commonly, one of the L's serves as the primary place for cooking, while the other is designated for socializing with guests.
U-shape: A U-shape layout provides a generous amount of countertop space to accommodate the appliances, gadgets, and storage that homeowners desire in a modern kitchen. They give plenty of flexibility and space to maneuver, making them great for large families.
Classic Work Triangle: The "kitchen work triangle" is the space between the sink, refrigerator, and cooktop. In a classic work triangle layout, the distance between those three areas is close, but not too close. This triangle is set up to make a kitchen function extremely efficiently.
Kitchen Islands
Especially in modern times, kitchen islands are viewed as an essential. They add to the kitchen aesthetic, but also drastically increase functionality with extra workspace, seating, and storage. Islands are perhaps the most creative way to apply geometry in a kitchen. We have listed island shape ideas, but the excitement does not stop there. These shapes can also feature two levels/tiers. Two tiers add an extra dimension to the kitchen and create visual interest to any design. They can also be a practical solution for differentiating eating and workspace. Weather an extra tier is added or not, the following shapes are still fantastic options to consider:
L-Shaped: This type of island tends to be large with plenty of storage. The shape ensures that workspace isn't crowded, which is a huge perk for households with avid chefs or more than one cook. It also allows for bar-style seating. This is a good shape for entertaining guests.
U-Shaped: U-shaped islands may be a chef's dream with three walls of cabinetry and appliances. Not only is this shape highly functional, but it is extremely spacious as well. U-shaped islands are perhaps the largest and most accommodating for storage, workspace, and hosting. However, they are difficult to fit into smaller kitchens, as they take up a large amount of room.
Galley: Galley islands can be a good fit for any type of kitchen layout. Often considered the quintessential island design for open-concept kitchens, galley islands ensure that your space has flow and remains efficient with their streamlined design. They have no corners or curves, so appliances and stored items are always accessible. This shape also favors bar-style seating.
Circular: A circle island can go full circle or feature a half-moon. Circular islands add a unique aesthetic to kitchens. Like L-shaped islands, they offer ample prep space. Circular designs can incorporate expansive seating areas that leave enough room for four-plus guests to comfortably eat and socialize. They allow homeowners to maintain functionality, while stepping outside of the box of the typical island shapes.
Rolling: Rolling islands are a convenient alternative to a built in island. They are ideal for small kitchens because homeowners can simply move them out of their way when they are not being used. This affordable island option is offered in a variety of shapes, but is typically rectangular.
With all of this knowledge you now have on countertop geometry, you are set to start designing your dream kitchen! Do not worry, you are not on your own. We are still more than happy to help you incorporate geometry into your countertop design to create the kitchen of your dreams. From edges, to layout, to island shape, an understanding of geometry is crucial.