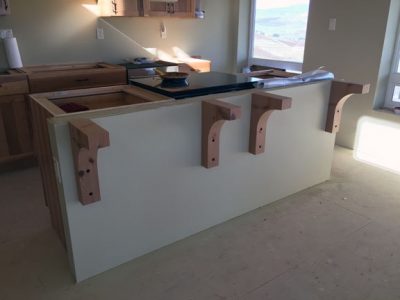 You have designed the custom countertops of your dreams… now all that is left is the installation! In this blog, we will discuss how to best prepare for your new countertops.
Before Installation
Preparing your home in advance will help make your installation run more smoothly. Think about foot traffic to your kitchen. Where will the installers need to travel in and out from? If it is winter, be sure the path to your door is free of snow and ice. Clearing a path in advance will help reduce the time of the actual install and make the process more efficient. In addition, we suggest that you consider what you will need from your kitchen during the time that your countertops are under construction. This should not take long, but you need not let this hinder your comfort. You may want to move some small appliances temporarily out of the kitchen for convenience. In addition, if you have old countertops already in place, they must be removed prior to the installation. Plan to be briefly without countertops at all. Remember, having countertops installed will involve workers in your kitchen. Depending on your personal preferences, you should plan accordingly.
Starting Installation
The first step of the installation process is to have a team member come to your home and take measurements of the walls and cabinets with a laser. Your old countertops can still be in place for this step. This allows the fabricator to accurately fit your new countertops to the specific space. The measurements will be used to complete a final template which you will be asked to approve. The material will then be cut and fabricated accordingly into the countertop at the shop. Depending on the job size, installation could take anywhere from roughly two hours, to all day for a whole house install. If you are having full height backsplash installed, it could involve steps one and two being repeated.
Congratulations, you finally have your new, dream countertops! Once the installation is complete, you will need to schedule a plumber to come and reconnect your fixtures and dishwasher. You may also require an electrician to reconnect electrical appliances. We suggest that this happen the day after installation, in order to give the countertop and sink adhesives time to set. If you are planning on adding a full height backsplash, this typically will be installed afterwards as well. Once these tasks are complete, all you have left to do is clean up the space and enjoy your beautiful, brand new countertops! If you are 100% satisfied with your new countertops, please tell everyone, if not, please tell us so that we can make it 100%.
This is extremely exciting, so you will want to show them off! We always love receiving pictures, feedback, and reviews from customers. We never forget about customers after their jobs are complete… once we have worked with you, you are officially part of the family!