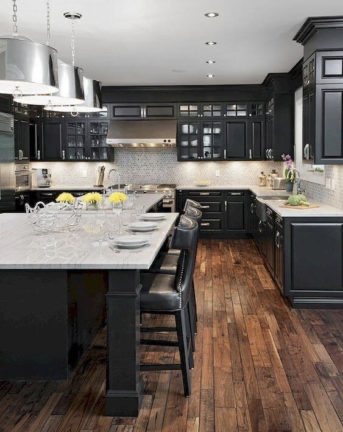 Summer is just around the corner! Not only does it bring warm weather and sunshine, but summer also comes with brand new trends. Is your kitchen set for summer? We are discussing some of the hottest summer 2020 kitchen trends to help you answer that question.
Dark Cabinetry
For a while, we saw light, and often stark white, cabinetry throughout the nation. However, this look is moving over to make room for daring, dark cabinetry. Homeowners everywhere are gravitating towards dark wood for their kitchens. These serve as not only an accent piece, but a alluring pop of color. Much like white, dark cabinets have the ability to pair well with nearly any countertops or paint color. Their versatility is just another thing to love about this incoming trend.
Quartz
This may come at no surprise, but quartz is still dominating in popularity for countertops. Quartz is not only beautiful, offered in a vast range of patterns and colors, but it is also remarkably durable. This low-maintenance material has the ability to convincingly mimic nearly any natural stone. Given the many benefits of quartz, it is not hard to see why it persists as a leading countertop material.
Kitchen Islands
Previously, islands were considered optional if the space was already available to add them to the kitchen. Now, they have shifted to more of a necessity. In fact, homeowners often design their kitchens around the island. Yes, they serve as a marvelous focal point with the ability to control the tone of the kitchen. They also, however, offer a range of functions. An island provides additional seating in the kitchen without taking up much space. It can also be used as storage by building shelves or drawers into it. Regardless of the intended use, an island is now often viewed as a necessity.
Smart Kitchens
We are in an era of cutting-edge technology. High-tech innovations go beyond fancy gadgets and appliances. Today, kitchens have technology integrated into all functions and appliances. For example, motion sensors are applied to faucets and light. In addition, refrigerator/freezer alerts are utilized to warn homeowners when the door has been left open and produce are in danger. Technological advancements have not skipped the kitchen.
Color Pops
Homeowners are gravitating towards vibrant colors. It seemed that there was a mindset for some that declared bold colors in the kitchen to be unacceptable. People are breaking away from that "rule" and having a blast with their favorite colors. A color pop can come in many forms. It could be present in the countertops, wall color, cabinet color, backsplash, and more! Here is where homeowners can really be creative and let their personality shine through.
Decorated Ceilings
Do not overlook the ceiling! Often left unattended, the ceiling is a great way to further customize a kitchen and set the desired tone. Commonly, homeowners are adding reclaimed wood touches to the ceiling via planks or beams. Creating a wowing ceiling can also be done by simply adding an eye-catching paint color or wallpaper. Ceiling tiles were once popular, but seemed to fade. However, they appear to be making a comeback in 2020. Regardless of which avenue is taken to spice up the ceiling, this is a fun and creative touch to the kitchen.
Peel and Stick Wallpaper
Wood, brick, and stone walls are gorgeous accent pieces. Although beautiful, they come at a price. Furthermore, they are quite permanent once installed. The cost and permanence can be avoided by using peel and stick wallpaper. This is a cheap and effective way to create the textured look of authentic wood, brick, and stone. As the name implies, it is meant for people to simply peel and stick onto the wall, just like a sticker. With the low cost and easy changeability, homeowners can test out multiple different looks to ensure that they always have an exciting, new aesthetic.
Becoming One with Nature
People are becoming one with nature… literally! It is more common now for homeowners to attach a patio or porch to their kitchen, allowing for easy access between settings. Not does this achieve a breath taking view from the kitchen, but it also makes entertaining easier. A host can cook in the kitchen and easily serve their guests on the porch or patio.
Exotic Backsplashes
Homeowners are opting for more exotic backspaces. They are choosing tiles with bright colors and patterns to add an exotic look to their kitchens. Included in this trend are handmade tiles. With handmade tiles, people can have something unique to their kitchen that is not replicated anywhere else. The options with backsplashes are limited only by the individual's creativity.
Incorporating Metals
Metal accents fit with any theme. From modern, to rustic, metal adds an alluring aesthetic. Metal may be used in decorations, appliances, furniture, and more. Since it serves as a fun addition to any kitchen, it is easy to see why metal is growing in popularity.
After reading about the summer 2020 kitchen trends for yourself, we ask once more, is your kitchen ready for summer? If the answer is no, do not fret! We are here to help you design a kitchen thats even hotter than the weather!