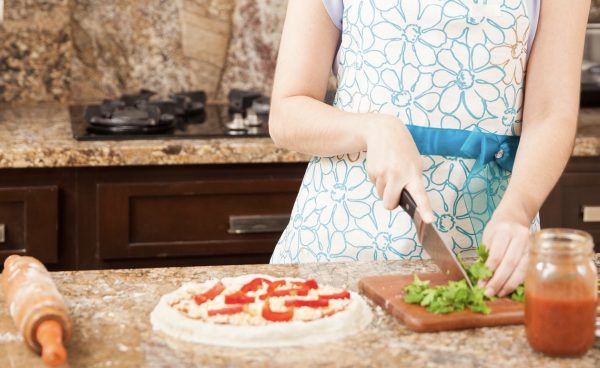 Aesthetics are very important when it comes to countertops. We want our customers to love the look of their installations. However, countertops are meant to be functional, as well as beautiful! Not everyone is a master chef, but cooking does not have to be complicated. Here are ten simple recipes that will help you put your countertops to use!
1. Mexican Pizza
Ingredients
1

pound

ground beef

1

packet taco seasoning

3/4

cup

water

1

cup

vegetable oil

8

flour tortillas (taco size)

1

(15 oz)

can refried beans

1

(10 oz)

can enchilada sauce

2

cups

shredded Mexican cheese blend
Instructions
In a large skillet, brown and crumble the ground beef.
Drain excess grease. Place cooked beef back in skillet and stir in taco seasoning packet and water. Bring to a boil, then reduce heat and simmer until thickened.
In a large skillet, heat up oil and add tortillas (one at a time). Cook for 3-4 minutes (flipping frequently). Set aside.
Meanwhile, heat up the refried beans in a microwaveable-safe bowl. This will make it easier to spread the beans onto the tortilla shells.
On each tortilla, slather a generous layer of refried beans and seasoned ground beef.
Place another tortilla on top and slather about two tablespoons of the enchilada sauce over it. Sprinkle shredded cheese on top of the sauce.
Place the pizzas on a large nonstick baking sheet and bake for about 8-10 minutes at 400° until cheese is melted. Serve with your favorite toppings (for example: diced tomatoes, sour cream, green onions, and sliced olives)!
2. Garlic Parmesan Spaghetti
Ingredients
8 oz spaghetti
2 tablespoons olive oil
3 cloves garlic, minced
1/2 teaspoon salt
1/2 teaspoon chicken bouillon powder
2 oz grated Parmesan cheese
1 tablespoon chopped Italian parsley
Instructions
Heat up a pot of water and cook the spaghetti to al dente, according to the package instructions.
Drain and set aside.
Heat up a skillet with the olive oil and saute the garlic until aromatic but not browned.
Add the spaghetti to the skillet, follow by salt and chicken bouillon powder. Stir to blend well.
Turn off the heat and add the Parmesan cheese. Mix well with the spaghetti.
Garnish with the parsley and serve immediately.
3. Chocolate Chunk Muffins
Ingredients
1 box chocolate cake mix
2 tbsp flour
3 eggs
2/3 cup milk
1/3 cup vegetable oil
1 tsp baking powder
1 1/2 cups chocolate chunks or chocolate chips
Instructions
Combine the chocolate chunks or chocolate chips with the 2 tbsp of flour and set aside.
Mix all ingredients together in a bowl except the chocolate chunks.
After the batter has been combined, then stir in the chocolate chunks.
Spoon into prepared muffin cups.
Bake in a 375° preheated oven for approximately 20 minutes or until a toothpick inserted into the middle of the muffin comes out clean.
4. Creamy Southwestern Chicken Alfredo
Ingredients
2 boneless, skinless chicken breasts
1 Tbsp taco seasoning
1 Tbsp olive oil
1 Tbsp butter
1 cup heavy cream
1/2 cup Mexican cheese blend
1 can Mild Rotel or chopped tomatoes, 2 Tbsp reserved for garnish
8 ounces Penne Pasta, cooked according to package instructions
Garnish: 2 tablespoons chopped fresh Cilantro Leaves
Instructions
Pat the chicken dry on both sides with a paper towel. Sprinkle with the taco seasoning on all sides.
Heat the olive oil in a cast iron pan over medium heat. Add the seasoned chicken to the pan and cook, turning once, until the chicken is completely cooked through (about 5 minutes per side). Remove chicken from the pan, place on a plate, cover with foil.
Add the butter to the pan that the chicken was cooked in and melt over medium heat.
Slowly add the heavy cream, whisking to incorporate all the seasonings and browned bits left behind from cooking the chicken. Whisk constantly and cook for about 2 minutes.
Add the cheese, rotel (reserving 2 tablespoons for garnish), and stir until thickened and the cheese is melted.
Stir in the cooked pasta and reduce heat to low.
Remove chicken from the foil covered plate, slice into strips. Place the sliced chicken on top of the pasta and sprinkle with reserved rotel and optional cilantro garnish for a pop of color. Serve immediately.
5. Broccoli Cheese Tots (Keto)
Ingredients
1

(10oz)

bag frozen broccoli rice

(about 2 cups)

2

cups

 shredded cheddar cheese

1

large egg

2

tbsp

almond flour

seasoning to taste

(garlic salt is recommended)
Instructions
Cook the broccoli rice in the microwave according to the package directions. Using a fine strainer, drain and squeeze out as much of the excess liquid as you can. Set aside to cool.
Preheat oven to 400° and line a large baking sheet with parchment paper.
In a bowl, mix together the broccoli rice, shredded cheese, egg, almond flour and seasoning to taste.
Make about 16 small balls with the mixture and place them evenly on your baking sheet. Smoosh them with your hands to flatten them out a bit.
In the center rack, bake for about 15 minutes (or until they start to brown), and then flip them over and continue baking for another 8-10 minutes.
6. Lemon Garlic Salmon
Ingredients
1/4

cup

ghee or butter

6-8

garlic cloves

minced

1/4

cup

chicken broth

1/4

cup

fresh lemon juice

Sea salt

1

tablespoon

avocado oil

4

salmon filets

about 6 ounces each, patted very dry

Fresh cracked black pepper

if desired

2

 tablespoon 

fresh parsley,

minced
Instructions
In a small saucepan, melt ghee or butter over medium heat. Add the garlic and sauté 1-2 minutes or until fragrant. Add in the chicken broth, lemon juice, and a few generous pinches of salt. Simmer this mixture until reduced by 1/3 to 1/2. The sauce will turn from a really thin liquid to a thicker, more bubbly boil. Remove from heat and set aside.

Remove the salmon from the fridge 10-20 minutes before cooking. Sprinkle both sides liberally with salt and season with fresh cracked black pepper, if desired. Heat avocado oil in a large saucepan over medium-high heat until shimmering.

Carefully place salmon filets skin side up and cook until lightly browned on bottom, about 2-3 minutes or until crispy. Use a spatula to carefully flip, taking care not to flake off any flesh. Cook 3-4 minutes on second side, or until skin is crisp and flesh begins to feel firm to the touch. Remove at this point for a salmon cooked around medium. Continue to cook until flesh easily flakes with a fork for a well-done salmon.

Remove pan from heat and pour lemon garlic sauce over. Sprinkle with parsley and arrange lemon slices over, if desired. Serve with skin or easily remove with a spoon, and serve with more lemon garlic sauce and lemon slices from the pan.
7. Corn Fritters
Ingredients
3

cups

corn kernels

(thawed, if using frozen, or 2 cans of corn, or 3 large ears of corn if using fresh)

1

jalapeño

seeds removed and finely diced (optional)

2

eggs

1

cup

flour of your choosing

2

tablespoons

cilantro leaves,

diced

1/2

teaspoon

salt,

or more to taste

2-4

tablespoons

Olive oil for frying
Instructions
Mash the corn kernels in a large bowl using a potato masher until most corn kernels are broken. You can also pulse the corn in a food processor for a few seconds just to break them – be careful not to over-process and turn them into creamed corn.

Add the rest of the ingredients and mix well.

Heat 1-2 tablespoons of olive oil in a pan. Use a heaping tablespoon or a melon baller to add the corn batter to the pan. Cook for about 3 minutes over medium heat, or until golden brown. Carefully flip and cook for another 3 minutes, or until the corn fritters are golden brown and cooked through.
8. Mini Pot Pies
Ingredients
3/4

cup

chopped leftover chicken

or 1 small fresh chicken breast, fully cooked

1

can cream of chicken soup

1

cup

mixed frozen vegetables

peas, carrots, corn and green beans, defrosted

1

package refrigerated biscuit dough
Instructions
Combine the chicken, mixed vegetables and cream of chicken soup in a medium bowl and stir well.

Separate each of the biscuits and place them into the compartments of a greased muffin tin.

Using your fingers, push down on the dough starting in the middle, then working the dough up the sides of each of the muffin compartments, as high as it will go.

Add the filling to each of the compartments (approximately 2 Tablespoons each).

Bake at 375° for 20-25 minutes until golden brown and bubbly.
9. Avocado Egg Rolls
Ingredients
1 cup canola oil
3 medium avocados
1 large roma tomato, diced
1/4 cup red onion, diced
1 tablespoon fresh lime juice
1 teaspoon garlic powder
Kosher salt, to taste
Cracked black pepper, to taste
8 egg roll wrappers
Instructions
Heat the canola oil in a large skillet over medium high heat.
In a medium-sized bowl, gently mash the avocados using a potato masher or fork. Add the tomato, red onion, lime juice, garlic powder, salt and pepper, and gently stir to combine. Adjust seasoning as needed.
Working one at a time, place the avocado mixture in the center of each wrapper, and spread it diagonally. Fold the short corners over the mixture, then begin rolling from one long corner to another. Using your finger, rub the edges of the wrapper with water, pressing to seal. Repeat with remaining wrappers and avocado mixture.
Working in batches, add egg rolls to the skillet and fry until evenly golden brown and crispy, about 2-3 minutes. Transfer to a paper towel-lined plate, and serve immediately with cilantro dipping sauce.
10. Bread Pudding
Ingredients
8 slices stale, dry bread
1/2 cup raisins (can be substituted with any dried fruit of your preference)
4 eggs, beaten
1 cup sugar
4 cups milk
1 teaspoon vanilla
sugar and ground nutmeg
Instructions
Cut the bread into cubes and place them in an even layer in the prepared baking dish. Evenly sprinkle with raisins (or other dried fruit).
In a bowl, beat together the eggs, sugar, milk, and vanilla until well blended. Pour the egg mixture over the bread cubes.
Lightly sprinkle the top of the bread pudding with sugar and nutmeg. Place in the oven and bake at 350° for 30-40 minutes or until golden brown.
We encourage you to give any and all of these recipes a try. When you do, please let us know how they turn out. We hope that you have a blast putting your countertops to use!