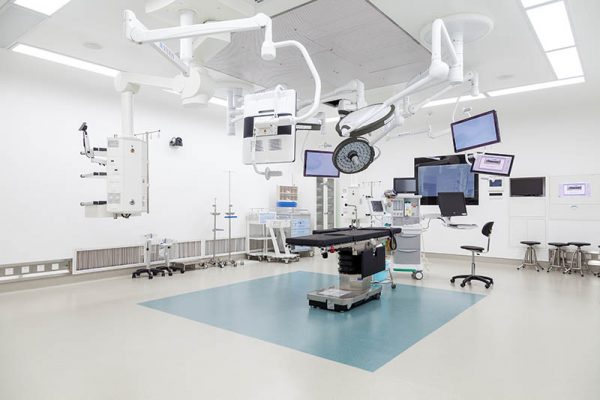 Corian® is known for its hygienic qualities. Because it is nonporous and, when properly cleaned, does not support the growth of mold, mildew, and bacteria, it is an ideal material for hospital settings. Corian® Design collaborates with leading healthcare architects and designers to best accommodate the physical and emotional needs of patients, family, and staff through building design. Healthcare facilities employ Corian® for surfaces in public spaces, operating room walls, scrub rooms, showers and baseboards.
Why Healthcare Facilities Favor Corian®
Corian® is:
A nonporous surface that offers a seamless appearance.
Easy to clean and maintain, making it ideal for testing areas and labs.
Extremely durable and can withstand frequent contact with patient beds, wheelchairs, and medical equipment.
Easy to repair.
Thermoformable, so it can be used to construct unique service areas that are highly functional.
GREENGUARD Certified® as a low VOC-emitting material.
Well suited for operating rooms because it is stain and slip resistant.
Aesthetically appealing. It comes in an extensive range of colors that create a warm and inviting environment. The vibrant color selection is suggested to help stimulate early childhood development in neonatal and pediatric areas.
An example of this material in healthcare settings is one of our most creative commercial jobs. Cameo Countertops, Inc. had the pleasure of working with the Angie Fowler Adolescent & Young Adult Cancer Institute in designing unique and functional Corian® installations. The vibrant colors laced within the project provide a positive environment, able to aid in patients' healing processes. The institute features many customized installments, including a color-changing, backlit, Corian® wall. There is even an outdoor space, consisting of many different bright colors and shapes. Beyond wowing aesthetics, the functionality of Corian® is utilized in sterile areas, such as labs, testing areas, and operating rooms. You can view our intricate stylings at University Hospitals Rainbow Babies & Children's Hospital located in Cleveland, Ohio.
Especially in the battle against COVID-19, we are honored to be able to assist with healthcare in any way possible. For Cameo Countertops, Inc., this means providing high durability, hygienic surfaces. The ease in which Corian® can be sanitized helps to prevent the spread of germs and viruses within healthcare facilities. Brave men and women in the medical field are working hard to keep people safe. Installing Corian® countertops assists them in their efforts to provide sterile environments.