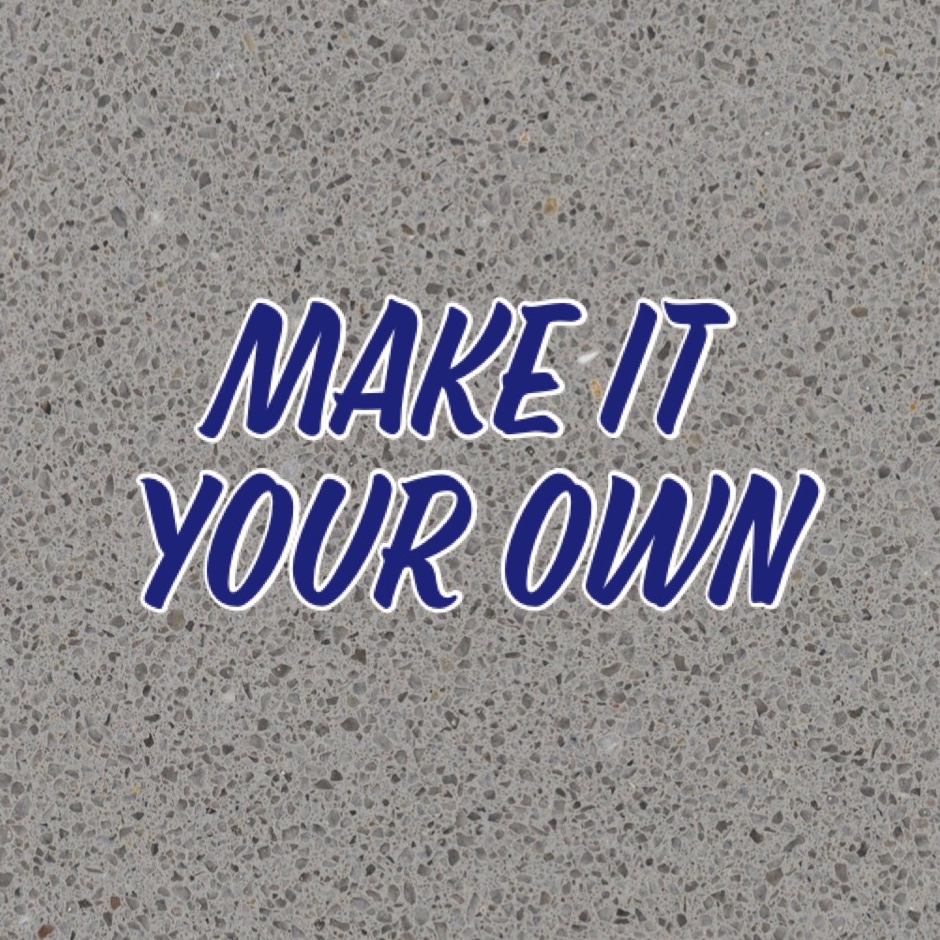 What makes designing countertops with Cameo Countertops, Inc. such fun a fun experience? Aside from our friendly sales staff and family atmosphere, it is the perfect opportunity to embrace your creativity!  Our many customization options available allow you to personalize your very own, unique, designs.
Material
We offer countertops in four different material categories:
Color
With the extensive range of different options, color is where you really have the chance to personalize your countertops. This aspect is limited only by your imagination. You can choose a bold, vibrant color, a classic, neutral shade, or anything in between. Whether you desire a modest grey, or crave an intense red, there is a variety of shades and patterns for you to consider. Not only are there a myriad of shades available, but you can also pick a pattern that best suits you. Patterns come in ranging degrees of solids, veined/marbled, and speckled. We recommend that you bring samples home to test in the room that they are intended for, as lighting and undertones impacts the appearance of each color.
Edge Profile
We have an extensive portfolio of edge profiles:
Eased: An eased edge, the most common edge type, is a 90-degree edge that is slightly rounded or eased in order to reduce the sharpness of your countertop and to help prevent breakage.
Crescent: The crescent edge is a soft curved profile that mimics the traditional bullnose edge, but adds a slightly more acute aesthetic.
Bevel: A beveled cut is a traditional edge reminiscent of classic stone architecture. Also called a chamfer, a bevel is a cut made at a 45-degree angle along the top edge of the granite. Beveled edges come in many variations, including double bevels that feature the top and bottom edge cut at an angle or combining a bevel with other edge styles. In the past, a beveled edge was a sign that the stone countertop was cut from real stone. Today, even laminate countertops can be cut with a bevel.
Full Bullnose: Full bullnose edges modestly rounded edges that are popular because they add a warm and soft profile to the countertop.
Half Bullnose: The half bullnose adds an alluring curve to a countertop. This is the best standard edge if you want to display how thick and solid your granite countertop is because it shows a greater cross-section of the slab.
Waterfall: The waterfall edge presents the stone with the appearance of mass and thickness, while being very soft to the touch and easy to clean.
Waterfall Leg: If you want drama in your kitchen, then you might fall in love with waterfall edge design. The term waterfall refers to the way granite slabs run down the edge of an island and extend all the way to the floor. This show-stopping installation style adds impact by displaying your stone like a piece of art.
Triple Waterfall: This edge adds levels to the waterfall design. It makes a counter look sturdier, as it creates an illusion of thickness.
Chiseled Rock: To create a chiseled rock edge, we literally chisel the edge of the stone to look like the raw edge of broken stone. We do, however, slightly soften the sharp edges and then apply a sealer to give it color.
Small Ogee: A premium edge really draws attention to your granite countertops. An ogee edge offers an eye-catching and elegant detail that resembles two sweeping arches that form an s-shaped curve. Despite its great level of detail, the ogee edge does not have sharp edges that could cause injury.
Large Ogee: This is a deeper and bolder version of the small ogee edge. It is a softer more flowing version of the classic ogee edge.
Finish
Different finishes allow for different textures and aesthetics.
Polished: This is the most common finish. The polished finish makes countertop surfaces appear glossy and almost mirror-like.
Honed: Also known as matte, satin, or buffed, this finish creates an extremely smooth surface without any gloss or reflection. The process to create matte finish involves the regular polish finishing process ending before the stone is buffed. This leads to a flat finish.
Brushed: This look is relatively new. It is created by taking a matte surface and running diamond-tipped brushes over it to add texture with subtle dimples. With this finish, homeowners can achieve a refreshing, uncommon aesthetic.
Keep in mind that all of the customization options described do not apply to every material. Some materials are more limited in choices than others. With that said, you still have the ability to personalize your countertops to your specific taste, regardless of which material you choose. Schedule an appointment, we would love to help you design your dream countertops!