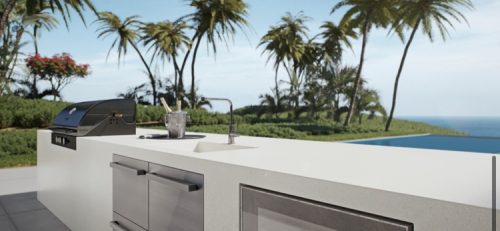 Many throughout the nation adore quartz. It is one of the highest quality and most sought after countertop materials on the market. Unfortunately, it has been limited to indoor use only, depriving outdoor settings of this remarkable material. These restrictions exist because prolonged exposure to UV rays can cause the surface to discolor over time. However, these limits are about to be lifted! We have some very exciting news… One of our brands, Ceasarstone®, is introducing a line of outdoor quartz colors! This new line will be a game changer for outdoor kitchens, fire pits, and more!
The Outdoor Quartz Collection is scheduled to be available in the near future. This will allow homeowners to construct a beautiful backyard, giving them a way to soak up the sunlight and warm weather this year in luxury. Ceasarstone® assures potential buyers that their new line has the high durability and low-maintenance of classic quartz, but without risking discoloration. The colors offered in the collection have been tested to withstand even the most extreme weather conditions. Local residents can rest assured, the Outdoor Quartz Collection is prepared to withstand the harsh and varying weather of this area.
With this new line, consumers are limited only by their imagination. They can cook, entertain, and dine outside, while they enjoy everything that they already loved about quartz. Since quartz is easy to clean, stain-resistant, and heat-resistant, it is conveniently incorporated into a variety of applications. Colors in the Outdoor Quartz Collection are well-suited for bench tops, poolside bars, and patio dining tables, to name a few examples. The breakthrough innovation of the Outdoor Quartz Collection provides an extremely versatile range of uses, encouraging homeowners to grow their creativity.
Stay tuned for further updates regarding the new Outdoor Quartz Collection. Cameo Countertops, Inc. is excited to help homeowners bring the luxury of quartz outdoors. This line makes customizing outdoor settings even more thrilling.