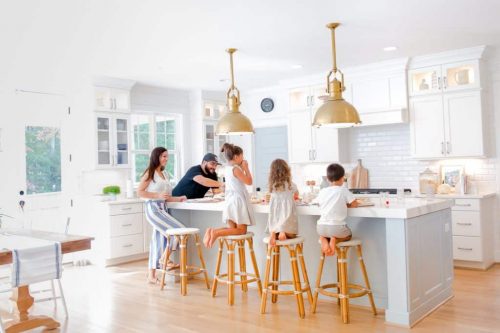 Why are countertops so important? Is it their wide range of functionality? What about their ability to add a beautiful focal point to any room? Maybe it is the way that you can customize them to uniquely display your personality. All of those things may be significant, but they are not what make countertops so special. The reason that they are so valuable is simple: Countertops are at the center of countless great memories.
Think back to all of the happiness and laughter that has taken place around them. As children, many of us learned to bake cookies with our grandmothers on their kitchen countertops. We would roll out the dough and joyously make a mess in our baking extravaganza with our loved ones. Fast forward a few years and remember coming home from school or practice to find your favorite snack displayed on the kitchen counter. You and your friends would crowd around, just waiting for whatever treat to be ready. Even if that treat was microwaved pizza rolls, you still had fun conversations while you waited those oh so long 2-3 minutes. We often take these small moments for granted, which is why it is important to take a moment to reminisce. Especially at a time where we are overwhelmed by negativity on news stations, it is more than ever crucial to focus on the positive aspects of life.
Now, you may have countertops of your very own. We hope that you not only see beauty in them, but consider all of the fabulous memories you have formed around them as well. For instance, picture the holiday excitement of preparing Thanksgiving dinner in your kitchen. Whether you screwed the cake up or not, you still lovingly baked your family member a special birthday cake on your countertops. Picture sitting down for coffee in the morning at your bar or breakfast nook. This is an essential part to starting your day. Later in the day, maybe your children sit at the counter and complete their homework. The memories are not limited to just the kitchen. Perhaps you prepared yourself for a special date or an important interview at your bathroom vanity. Did either of those things lead you to great new adventures today? One commonality among them all: your countertops were involved.