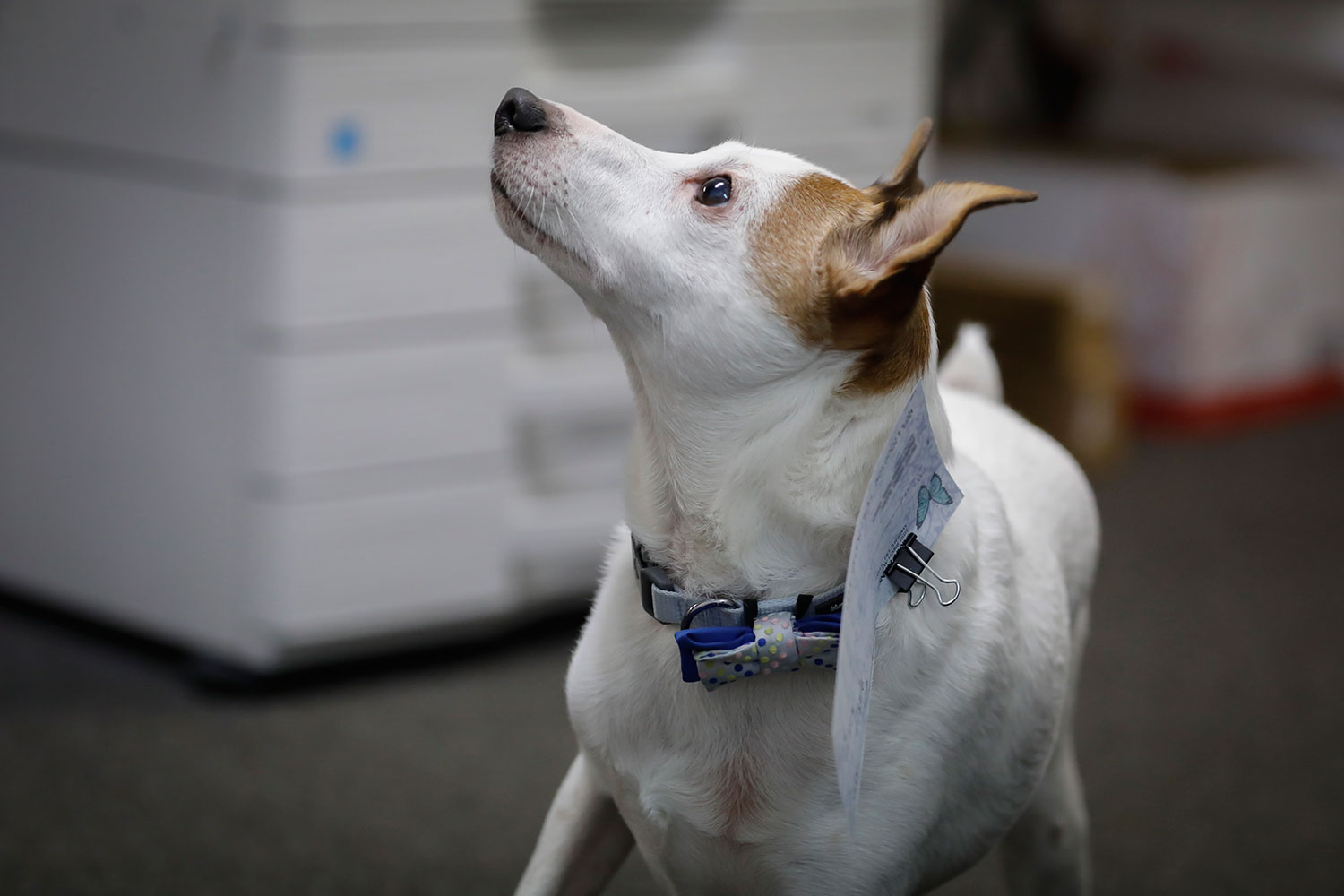 When thinking about companies that install countertops, you probably do not associate your pets with them. However, Cameo Countertops, Inc. is not the typical fabricator. As our logo (an image of our Jack Russel employee, Bugsy) may suggest, we consider pets to be part of the family! We strive to satisfy all members of the family, which of course includes pets. That is why we stepped outside of the box to design custom furnishings that accommodate both people and pets!
Common designs include raised feeders, bowl holders, and cat play stands. An example of our more creative designs would be a desk with a cutout for your pet to freely exit and enter. This way, you can be productive by completing work, while still spending quality time with your pet! The cutout can be suited specifically to the size of your pet. We can personally recommend this design, as it is implemented in our very own office. Bugsy and Roxy helped customize this Corian® desk… and they had good motive! They use the cutout as a method of sneaking extra treats throughout the day. Although the person at the desk is hard at work, productivity is not the dogs' biggest concern here.
The thermoformability of solid surface, such as Corian®, allows customized furnishings to be not only possible, but virtually limitless. Thermoforming is a manufacturing process in which a sheet of solid surface material is heated to a pliable forming temperature, formed to a specific shape in a mold, and trimmed to create the desired product. This, of course, applies to more than just animal accommodations. In fact, we have an entire separate blog to better explain the wonders of thermoforming Corian®: Think Outside The Kitchen. You can also craft unique designs for yourself and human family members. Perhaps you want an intricate trim to surround your room, or maybe a dazzling statue made just for you. If you can imagine it, we can bring it to life using solid surface. Although these materials are well suited as a countertop surfaces, they offer a diverse range of use.
While designing your dream countertops, do not forget to include your pets. We are more than happy to help you customize something special for them as well. Feel free to contact us, we would love to hear what you may have in mind! Incorporating your pets in your projects adds an whole new element of fun to the design process.