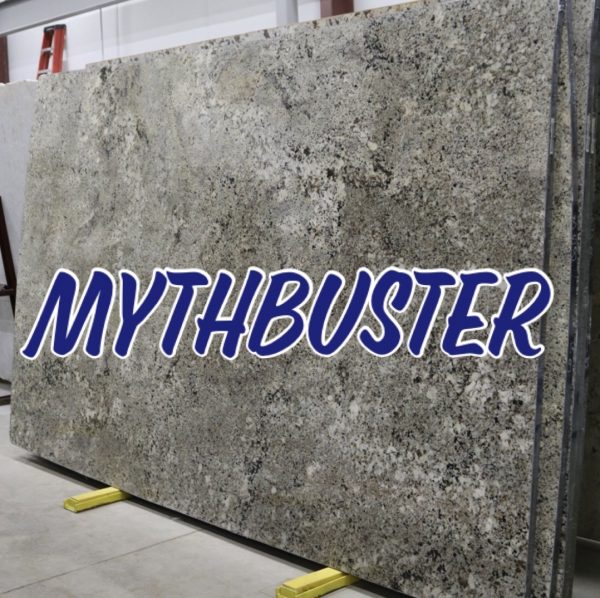 Granite is one of the most popular choices for countertops. It is a stunning and high quality material that can be found in even the most luxurious homes. We do not want people counting granite out based on nonfactual reasons, so we are busting 10 myths about this stone!
1. GRANITE IS OUTRAGEOUSLY EXPENSIVE
It is true that some granites are steeply priced. However, we offer granite in a wide range of prices. That means that the initial cost of granite does not have to be overly costly. In addition, granite is an investment. Considering its tremendous durability, upkeep is not a big issue with this material. Less durable materials can add up in repairs and general maintenance over the years. Granite, on the other hand, will withstand regular countertop wear and tear over time and still look like new! Furthermore, granite countertops will add value to your home. If you are planning to relocate in the future, do not overlook your countertops while pricing your home. Installing granite countertops can actually save you money when compared to lower quality materials.
2. GRANITE IS HARD TO MAINTAIN
It is typically true that granite must be resealed annually. Not only is this a hassle, but it can also be costly. We help you avoid this by applying a sealer that lasts up to 15 years on all of our granite installations. Beyond the sealer, you may be worried about regular upkeep. Under normal circumstances, granite should not require anything other than soap and water for cleaning.
3. GRANITE IS UNSAFE FOR FOOD PREPARATION
Granite is a porous material. This is likely the root of the misconception that bacteria and germs lodge into the pores of the stone, making it unsafe to prepare food on. Especially when considering that a sealer is applied, granite will not harbor any more germs than another countertop surface. In fact, countertops are made with the expectation that they will come into contact with food. Therefore, it is highly unlikely that whatever material you may own is unsafe for food preparation.
4. DARK GRANITE IS MORE DURABLE THAN LIGHT GRANITE
It is commonly believed that darker colors of granite are more durable than lighter colors. In reality, the hardest mineral found in granite is quartz, which is usually a white or grey colored mineral. That being said, you should not worry about color affecting the durability. This is only a consideration if granite is installed outdoors, where it will constantly come into direct contact with UV rays. For your kitchen, do not let toughness stop you from falling in love with a darker color of granite.
5. GRANITE IS INDESTRUCTIBLE
Although granite is one of the toughest materials on the market, no countertop surface is indestructible. Granite is resistant to chemicals, heat, stains, and scratches; however, it is still possible to damage this stone. That is why we always recommend the use of cutting boards, hot pads, and trivets with any countertop. In addition, be mindful of the chemicals coming into contact with the surface. Lemon juice, for instance, can damage materials if left uncleaned.
6. GRANITE STAINS ARE PERMANENT
Granite does not stain easily, but stains can still occur. If it does stain, one of the main culprits is cooking oils. Fortunately, using a paste or poultice can draw the oil out of the stone. So long as you are mindful about cleaning up spills on the surface, stains are unlikely to remain.
7. GRANITE AND MARBLE COUNTERTOPS ARE THE SAME
Both granite and marble are natural stones, but that is essentially where the similarities end. Marble is derived from a calicoes stone formed from oceanic deposits, whereas granite is an igneous rock found deep within the earth's surface. Some granite may mimic marble in terms of texture and veining, but they are still very different materials. Due to its composition, granite offers more durability than marble. If you are planning to put your countertops to the test, the two materials will not perform equally.
8. GRANITE IS RADIOACTIVE
Radon exposure is a genuine public health problem, as it is linked to lung cancer. Granite may contain traces of radon, so it is easy to see why this can sound scary. However, the amounts of radon potentially contained in the stone are so small that they are not a threat. The EPA states, "Some types of granite may emit gamma radiation above typical background levels. However, at this time, EPA believes that the existing data is insufficient to conclude that the types of granite commonly used in countertops are significantly increasing indoor radon levels." If a home does happen to have this issue, granite countertops are probably not the culprit. The most significant source of radon is the soil beneath the home itself. Foundations and basements can be properly ventilated to disperse excessive levels of radon gas, which is preferable in most cases to removing granite countertops. Radon concern is unnecessary unless radon testing identifies a problem in a specific home. Given this knowledge, let your mind be at ease when bringing granite countertops into your home.
9. GRANITE SLABS ARE UNIFORM
As stated, granite is a natural stone. Since it is produced by the earth, patterns and colors are not controlled. Although granite is grouped into colors where each slab is similar, no two pieces are exactly the same. With its uniqueness comes unpredictability. For this reason, we recommend that you choose a slab yourself instead of basing your vision purely off a sample. In the same color, one slab could offer more color splashes than another. For instance, Typhoon Bordeaux is a stunning, warm, granite color. Some slabs may be covered in splashes of red, whereas others might contain hardly any red at all.  It is important that customers are informed of the variations in natural stone.
10. GRANITE IS THE MOST ELITE COUNTERTOP MATERIAL
Granite is indeed a superb choice for countertop surfaces. Some people are devoted granite advocates, and with good reason. Despite the many benefits of granite, it is impossible to declare it the most elite countertop material. Choosing the best material all comes down to personal preference and needs. Although granite is best suited for certain homes, that does not mean that it is the best option for every case.  No material can be identified as the best in general.
If any of the above myths caused you to be suspicious of granite, we hope that busting them helped your view of this material. Part of our job is to help you stay informed with accurate information regarding countertops!