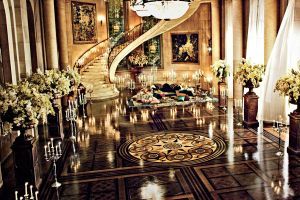 The roaring 20's are back, old sport! The 20's are all about glitz and glam. We are not just talking about your personal fashion… this applies to your home as well. Here are some predicted trends for this year.
Veining
When it comes to veining patterns, it looks like they are here to stay! Whether it is marble, or quartz made to mimic marble aesthetics, you cannot go wrong with this look. Since ancient times, veining patterns have remained a style icon.
Light Wood
Homes & Gardens suggests that paler shades of wood are making a comeback. For a period of time, people avoided using light wood; however, the 20's appear to be bringing it back. Beech Nuwood Corian® is an ideal way to follow this trend. The color is able to mimic the authentic look of wood, while still offering the durability of Corian®. You can use this in countertops, cabinets, and window sills. Use your creativity and incorporate it anywhere in your home!
Bold Colors
2019 seemed all about white kitchens. If white was not your style, you are in luck this year! Dark shades are growing in popularity. Black walls were once unthinkable, but we are in a new age and they are trending. Furthermore, exotic colors are popping in the 20's. If you are familiar with The Great Gatsby, you know that the roaring 20's loved flashiness. It appears that the second round of the 20's is no different. Go ahead and express yourself with your favorite, vibrant color. Whether you use it to liven up your countertops, walls, or cabinets, you have the green light to go for color.
Gold Rush
Speaking of flashy, gold is taking over. From appliances, to furniture, to accent pieces, try adding splashes of gold to your home. This will give you a look of luxury fit for Gatsby himself.
Double Islands
This year, bigger is better. Double islands are becoming more and more common. Kitchens are bigger and more open than they used to be, so they have the space to accommodate double islands. Think of how functional a single island is, now imagine having two. If you are planning to throw grand parties like Gatsby, this trend is one to seriously consider. It offers style and functionality at the same time.
Now you are prepared to live up the 20's in style. Be bold, be flashy, be trendy!