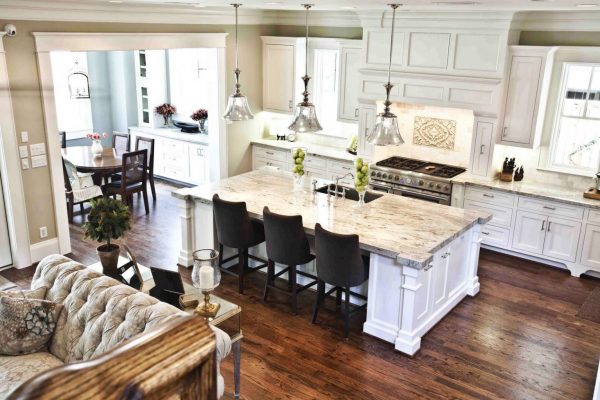 Over the holidays, did you notice that your kitchen is not as accommodating of family time as you would like it to be? The kitchen tends to be a hub where people gather to cook, eat, work, or hang out. This room should bring people together, so it is important to have a layout that facilitates collaboration. We understand the importance of family and want to help you maximize time spent with your loved ones! Here are a few ways to make your kitchen family friendly:
Open Floor Plan
An open floor plan maximizes family time. Merging your kitchen with another room, such as the living room or dining room, will allow members of your household to be in separate rooms and still spend time together. With this floor plan, nobody has to be excluded from conversations or activities.
Plenty of Seating
When it comes to seating (like friends and family), the more the merrier! A kitchen with limited seating is not very welcoming. Make your kitchen a place where people are able to gather comfortably by offering plenty of seats. You can increase seating capacity by adding a breakfast nook or a breakfast bar. These options allow your kitchen to accommodate more people, without taking up too much space.
Appliance Location
Be cautious of where you place the fridge, sink, and oven. The wrong placement will disrupt the flow of kitchen traffic. It is recommended to place these appliances in a triangle, leaving enough space between them all. Ideally, you should keep them at least 10 feet apart. This way multiple people can utilize the kitchen without clashing.
Countertop Space
Do not skimp on countertop space. The more workspace, the more people that your kitchen can cater to. You can maximize space by adding an island or a peninsula. This way, you can easily cook while your children do their homework. With everyone's busy schedules, sometimes the only way to spend time together is to work on separate tasks in the same room.
Proper Lighting
Keep the room bright. You should be sure to have proper lighting over all workspaces in the kitchen. You do not want people to need a flashlight to read a recipe card. A well lit kitchen is a productive space.
Do not let your kitchen layout hinder quality time spent with your family. We hope that these design tips help you to maximize time spent with your loved ones. The kitchen is called, "the heart of the home" for a reason!