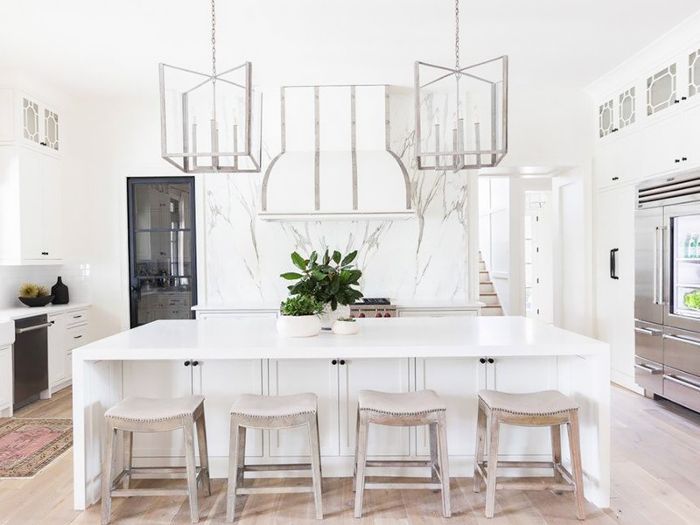 The weather in the Northwest Ohio area is pretty unpredictable, so we cannot guarantee a white Christmas. However, we do know that homeowners nationwide are dreaming of a white kitchen! White kitchens are a booming trend!
The thought of an entirely white kitchen may sound a little boring. With no pops of vibrant color, how can any room draw attention? We have some tips for how to pull off this look without seeming bland. First, we recommend decorative lighting. Lights can be installed anywhere. Whether they are by the sink, over an island, or underneath cabinetry, lighting will add pizazz. Textures also have a big impact. You can use different textures in your fabric, accessories, or countertops themselves. Alternating textures breaks the room up and provides interesting focal points. In addition, try a unique design. Be creative with the configuration of your kitchen. We love to help customers create their own custom countertops and layout. Your kitchen cannot be boring when you have an interesting design! Furthermore, do not be afraid to incorporate eccentric furniture and accessories. For instance, look for out of the box barstools and seating. Even placing a distinctive decorative bowl on your island will enhance excitement in the room. Uncommon additions provide the boldness you desire, without taking away from the elegance of an all white kitchen.
You may be thinking that going with an all white theme in your kitchen will drastically limit your options, but that is not necessarily true. There are a myriad of shades of white for your countertops, fabrics, paint, and cabinets. We offer a wide variety of white countertop colors that come in multiple shades and colors. For example, a few of your pattern choices include solid, veining, speckled, and striped. All of these patterns provide a range of materials and shades within the white category.
This look is no longer considered boring! Below are some examples that make it clear why all white kitchens are such a popular trend.