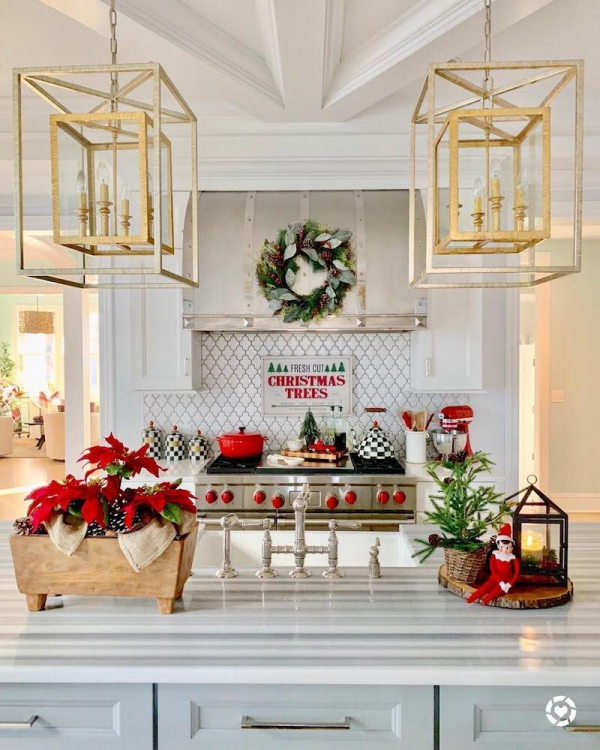 December is here and the countdown to Christmas is in full swing! On your mark… get set… GO and deck your home out with Christmas cheer! We all know that a big tree traditionally goes in the living room, accompanied by twinkly lights and some stockings hung on the mantle. However, nobody really discusses decorating the kitchen. There seem to be far less rules for this space, so how do you even begin to make it festive? The holidays in general can be overwhelming, but we are here to help guide you through them.
Inspiration
Start by gathering inspiration. We frequently post a variety of creative examples on our social media platforms to give customers ideas. We recommend looking through any of our pages for help in creating your vision. We specifically post trendy designs, styles, and crafts to the "Holiday Spirit" category of our Instagram highlights! Gathering insight will help you know what direction you want to head in before you break open the tinsel and untangle the string lights.
Theme
Once you have some ideas of what best puts you in the Christmas spirit, decide on a theme! Will you want to go more rustic, or do you prefer a modern aesthetic? Do you gravitate towards an elegant, "White Christmas" look, or do popping colors make you feel jolly? Speaking of colors, which colors will you incorporate? You can stay traditional with red and green, or do something a little more unique, such as turquoise, for example. With so many gorgeous options, it is important to stick to a theme to create a well coordinated look.
Details
Small details can be the key to achieving that "wow" factor, so they should not be overlooked. This really applies to any room in the house, not just the kitchen. These little touches can bring the room to life. Furthermore, you can cut costs by making a lot of them yourself! Small details are the perfect way to incorporate your own personal flare into your decorating this season. Below are just a few common supplies that can be used to let your imagination run wild and craft a Christmas masterpiece!
Mason Jars
Ribbon
Tea Lights
Fairy Lights
Fake Flowers
Plates/Platters
Ornaments
White Felt
Trends Of 2019
Better Homes & Gardens has outlined a few Christmas trends of 2019 that they believe will be a big hit! You can read more on these trends by visiting their blog: These 8 Christmas Trends Will be Huge This Year, Say Our Editors.
1. Plaid Patterns
2. Floral Trees
3. Recycled Material
4. Red and White Decor
5. Boho Decor
6. Nostalgic Decor
7. Tiny Trees
8. Neutral Tones
Now that you have a basis for where to begin, you can start decking your kitchen out for Christmas!  Gather your friends and family and create memories while you turn your kitchen into a winter wonderland. After all, what better way to put yourself in the Christmas spirit than by decorating with your loved ones?