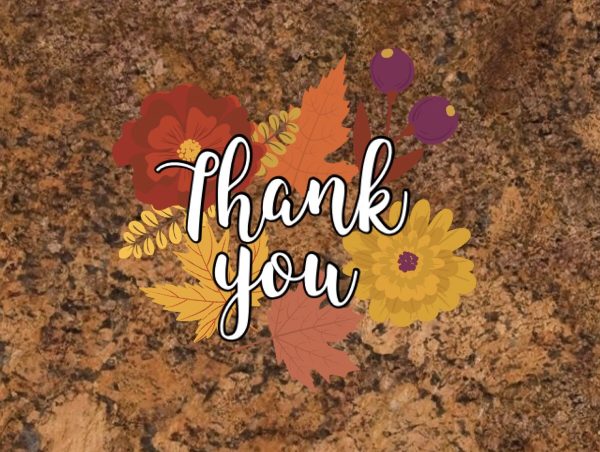 At Cameo Countertops Inc., we think of our customers as family. Since it's Thanksgiving, now is the perfect opportunity to share how thankful we are for our clients. Because of them, we were able to create a family that continues to grow. Here are just a few of the many reasons why we have the best customers that any company could ask for.
Their Passion
Customers become very engaged in their projects. It makes all of our efforts to give them the best product worth it when we see them take such an interest in our work.
Their Enthusiasm
It makes our day to see our customers interacting with us on social media. We love reading the comments and receiving pictures of completed projects! Nothing makes us happier than reading all of the messages from happy customers. They may be thanking us, but truthfully we are thanking them for making Cameo Countertops, Inc. such a positive environment!
Their Creativity
We are here to help people design their dream kitchen. However, we have a blast working closely with customers and hearing their fun new ideas. Their creativity makes the designing process exciting, and nothing is more rewarding than helping them bring their vision to life!
Their Kindness
Clients' friendliness during appointments makes each of our employees' jobs a true joy! Furthermore, we appreciate their hospitality in welcoming us into their homes for installations. This makes the entire process a pleasure.
Their Loyalty
We know that we are not the only local fabricators. That is why it means the world to us when people trust Cameo Countertops, Inc. with their projects. It means even more to us when they continue to give us their business, so we know that they are happy with the service. This is where becoming part of the family really shows… once we work with a customer, they remain part of the family.
Messages From The Cameo Crew:
"I am thankful for each and every customer that gives us the opportunity to provide them with custom countertops. When they choose Cameo, we do our best for them and their satisfaction is our biggest reward." –Brian Hudock (CEO)
"When you really boil it down, the customers are the life blood of this business and every employee here. Without them, we would all struggle to put food on our family's tables.  That in and of itself is what drives me to please each and every one of them, no matter how complex their needs may be." – Eric Andrews (General Manager)

"Thank you to all the customers that put their trust in us and invite us into their homes. If it wasn't for you, I would be just uploading pics all day to my dogs Instagram."

–Sarah Evans (Scheduling)
"This is Nathan and Chris, #1 install crew at Cameo Countertops, Inc. We would like to wish all of our customers a happy Thanksgiving. If you are going to be traveling, stay safe. Thank you for choosing and trusting us for all of your solid surface, quartz, and granite needs.., happy holidays!" – Nathan Glosemeyer & Chris Howery (Installers)

"At a time when we are thankful for all the blessings in our lives, I'm most thankful for our friends, the customers! Have a wonderful holiday season" – 

Brittany Lesinszki (Commercial Project Manager)
"The customers make my job feel less like work and more like fun. Reading their many positive reviews and having the opportunity to interact with them is something that I look forward to every day. Thank you for your kindness!" – Alexandra Carducci (Sales & Marketing Representative)
"I love working at Cameo Countertops, Inc. because we are family! Helping customers choose material and have their new kitchen dreams come to light is so rewarding" – Jillian Hauser (Inside Sales & Customer Service)
"One of the best parts of working at Cameo Countertops, Inc. is meeting new people and building long lasting relationships with each one of our clients. Cameo's customers are extra special because they support our local family owned business!  I am thankful for each and every one of them, and feel as if they are part of the Cameo family" – Heidi Coberley (Sales Manager)
"I am thankful for the laughter and good conversation I get to share with our customers daily!  Thank you all for making my job so enjoyable." – Bob Coberley (Outside Sales)