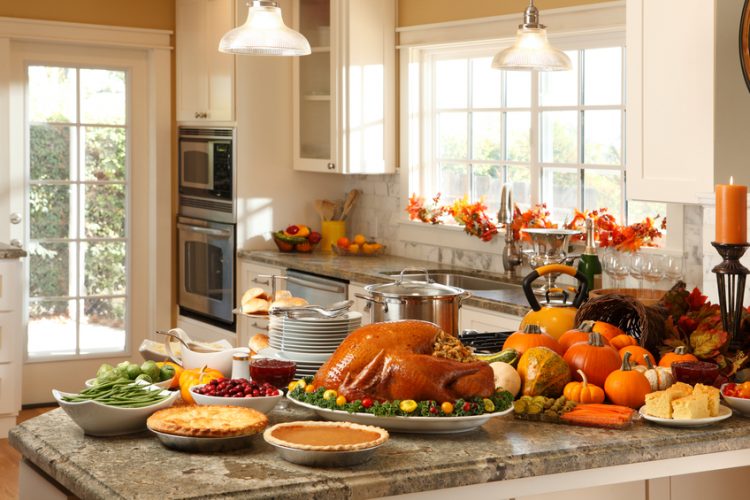 We know that you're all busy preparing for the upcoming holidays, but this is worth taking a few minutes to read! We want you to have the most successful holiday season possible… which entails avoiding any countertop damages. Here are some helpful tips for protecting your countertops during the holidays.
Trivets & Hot Pads
Hot, home cooked meals are a highlight of the holidays! Although we all look forward to the festive feasts, they come with some risks for your countertops. Setting these spreads directly on your countertops will subject them to a lot of heat. Even the most heat-resistant materials can still discolor over time with frequent exposure to heat.
Coasters
It is better to be safe than sorry. Another layer of protection for your countertops never hurts. Using coasters will help ensure that residue, water marks, and scratches are prevented.
Cutting Boards
Small, last minute preparations are tempting to quickly chop something up directly on your countertops. Doing this saves you the time and effort of searching for a cutting board; however, the risks outweigh the benefits. Potential scratches are not worth it. We understand the time crunch of last minute holiday preparations, but we still urge you to take the extra time to locate a cutting board.
Wipe up Spills
Spills are going to happen, especially during the holiday season when you are using your kitchen even more than usual. Go ahead and have a blast making all of your favorite seasonal treats… just do not postpone the clean up. The same applies to hosting holiday parties. Wipe up small spills and messes throughout your gathering, your countertops will thank you! The longer messes are left unattended, the more you risk stains.
Avoid Leaving Containers Out
Containers that hold oils are difficult to keep dry. Nobody wants to end up with a greasy film on their countertops, especially while they are hosting a party. In addition to oils, watch out for beauty products. They may have residue on the outside that will cause a chemical reaction with your countertops. For example, nail polish remover contains acetone. Acetone can be harmful to your sealant.

Do Not Stand on Countertops
Who isn't guilty of hopping up on the counter to reach something up high? Nobody wants to take the time to pull a stool out for such a minor task. Well, the small inconvenience of grabbing a stepping stool, as opposed to standing on your countertops, is actually worth it. When you stand on your countertops, you expose them to more weight than they are designed to accommodate. This could result in chips or cracks over time.
Stone Soap
Once the hustle and bustle of the holidays are over, you have some time to breath! Take a minute to pick up a good stone soap. This will give your countertops a deep clean, ensuring that any overlooked residue is removed. After all that your countertops endured throughout the holiday season, they deserve it!
In summary, go on and be the hostess with the mostest! Enjoy cooking up extravagant holiday feasts and baking your favorite festive treats! Simply be mindful of protective measures for your countertops while doing so. In addition,  cleaning up messes along the way instead of saving them for after the holidays will be well worth it. Taking these tips into consideration will greatly improve your post-holiday recovery!