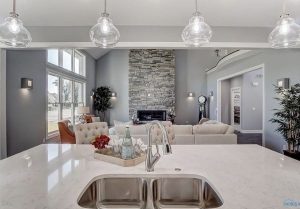 We're all a little guilty of tuning in to check the latest fashion trends. Who doesn't want to be updated on if bell bottom jeans are back and if it is acceptable to wear a scarf in 60 degree weather. Well, the same can be applied to countertops. Kitchen design trends vary throughout the years just like fashion trends do. Your countertops are the cornerstone of your kitchen décor. They determine the style and character of your kitchen, so it is important to ensure that they set the desired tone. Afterall, you don't want your kitchen to scream, "that's so last year!" To prevent that, let's talk about some 2019 design trends.
Trend #1: Veining and Patterns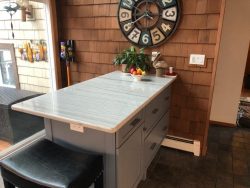 Previously, countertop styles were pretty plain. Now, it's a new age and people are spicing things up with eye-catching patterns. Thanks to modern-day technology, quartz can now be designed to offer patterns resembling natural stone, such as marble and granite. This allows for all of the durability of quartz, with the stunning flare of natural stone. Looking at the available colors, it is pretty easy to see why this is one of the hottest kitchen design trends of 2019! Customers have the option to choose from a myriad of different patterns in a variety of shades. Veining in particular has grown in popularity. Because of the many options, veining can compliment any style of kitchen and give each project its own unique essence.
Trend #2: Oversized Sinks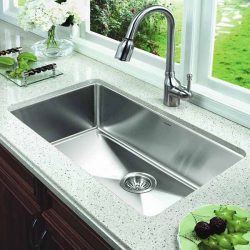 This year people are loving the look and functionality of an oversized sink. Appliances have been getting bigger and bigger, so it only makes sense that sinks should evolve as well. Small sinks are a thing of the past.
Trend #3: Neutral Colors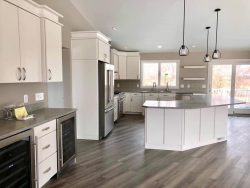 Instead of bright or dark colors, homeowners are gravitating towards whites, greys, and light blues for their countertops. As you can see in our Residential Portfolio, a multitude of jobs that we have completed have been done in these shades. Colors, such as these, offer a clean and elegant look that people are loving in 2019!
Trend #4: Bold Backsplashes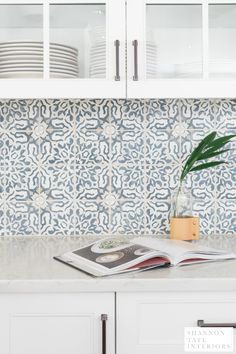 Spanish and Moroccan tiles have been increasing in popularity. They offer exotic patterns and colors that really bring a kitchen to life. Their pop of color can transform a kitchen from dull to radiant.
Trend #5: Undercounter Appliances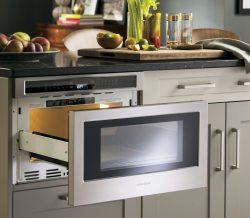 Opting for undercounter appliances not only boosts aesthetics, but enhances functionality. Having appliances, such as microwaves, under the counter offers more space for utilizing your countertops. It looks like preparing 2019's Thanksgiving dinner will be a breeze!
Trend #6: Backlit Corian®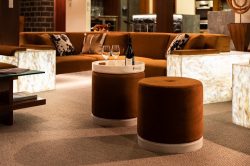 If you follow us on social media, you know that we love to show off our backlit Corian®. People seem to come up with new, creative ideas for incorporating backlit Corian® each day. This can be used in decorations, on walls, in furniture, and so much more. The possibilities are endless and we expect to see even more backlighting as the year progresses.