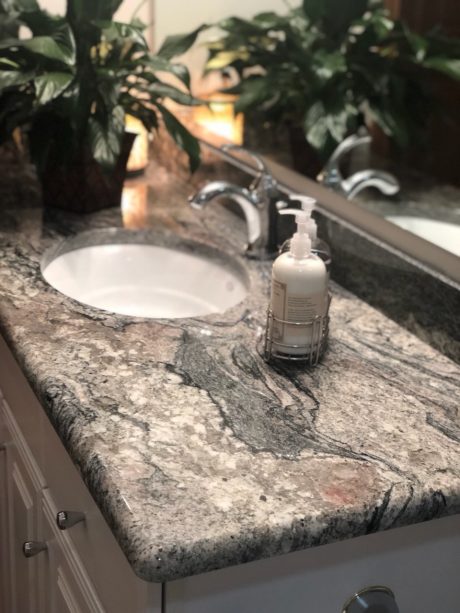 What happens to leftover material? Do we just throw it all away? Of course not! We do not like to be wasteful, so sufficiently sized slabs that are still in good condition go into our remnants program.
Our remnants program offers quality materials at lowered prices. All remnants are sold at one low price, regardless of material or color. That's right, you can purchase any material in any color for a discounted price! our shop contains a large and very diverse selection of remnants that customers are able to choose from. Our sales staff is always happy to help customers pick from our many options. In addition, we make sure that searching through the slabs to find the one that is best suited for you is a fun and exciting experience. Countertop shopping should never be stressful.
Our inventory consists of a couple hundred remnants ranging from 2-10 feet in length. They are all suitable for fabricating vanity sized tops. It is, however, important to keep in mind that the remnant program is not intended for large projects. Surface area is lost during fabrication, so the remnant must be slightly oversized to be sufficient for the job. One inch in both dimensions is lost in the fabrication process. This means that if you for example want your finished piece to be 23" X 60", your remnant must be at least 24" X 61".
Our remnant program works perfectly for vanities, accent pieces, and small islands. It allows us to avoid wasting valuable material, while offering our customers quality products at a discounted price.  Please contact us if you have a project that you think this program is fitting for!