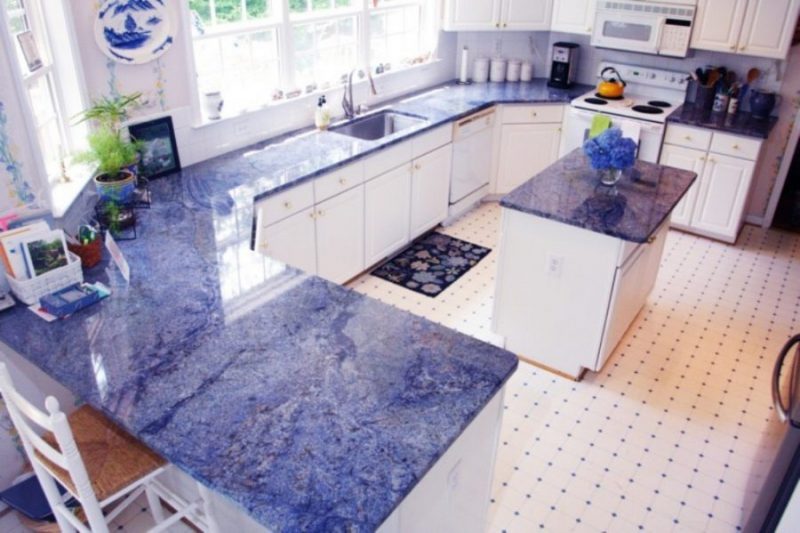 Think about your favorite color for a minute. Maybe bright red popped into your mind, or a rich blue. Those are not colors that you typically see in countertops. However, they may be the colors that make you happy, so why not incorporate them in your countertops? Let us help you step outside the box and make a statement! We are challenging you to have no fear… it's time to dare to be bold!
We offer a myriad of bright, prominent colors in a variety of materials, so the sky is the limit when it comes to colors! You could go with a solid color, or pick from one of our many materials that are laced with vibrant colors in intricate patterns. We will help you create a tasteful design that allows your personality to explode through your countertops.
If you are concerned about your color choice appearing too overwhelming, we have some suggestions for you. First, you could choose a color, like Gilasi, that is packed with color, but exhibits it in a more subtle way. Gilasi is crafted with colorful, recycled glass, against a simplistic background shade. At first glance, this material will catch your eye; however, it will not overwhelm the room. You could also show off your favorite color in an accent piece, instead of using it throughout the entire kitchen. For example, you could incorporate a deep, red backsplash, paired with grey countertops. In addition, you could create a focal point by having a bold colored island matched with a more toned-down shade for the rest of your countertops. Furthermore, keep in mind that Corian® is thermoformable. This means that you could apply your creativity in any way to have a pop of color when using this material! Whether it be a window sill, a shelf, or some kind of trimming!
Below are some pictures for you to use as inspiration. Just think of how much fun you will have picking out your favorite color! What will be even more fun is wowing your guests with your bold, flashy countertops once they are installed!