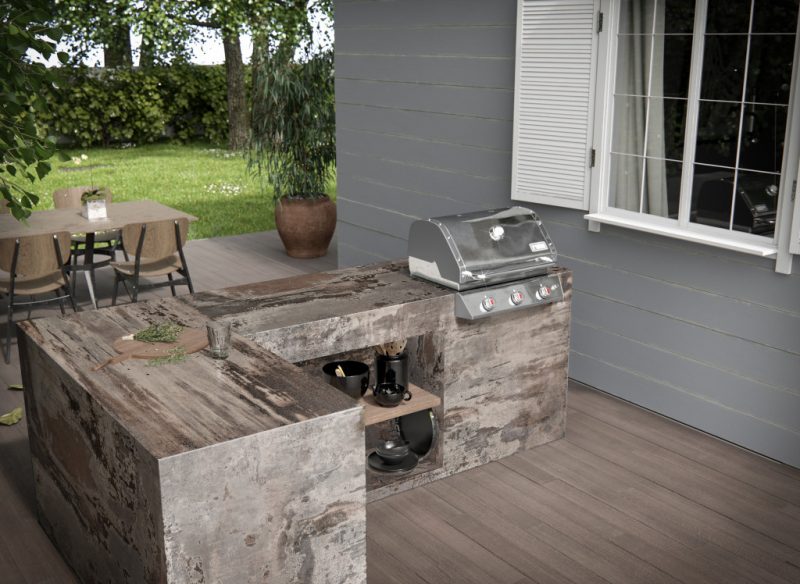 'Tis the season to be spending a lot of time outside in the sun! Who wants to be running back and forth from the kitchen to their patio when they are trying to relax or visit with guests? Fortunately, a growing trend has come along to fix this problem… outdoor kitchens! Your first question is probably what material you should use for the countertops. After all, your outdoor kitchen should be every bit as beautiful and customized as your indoor kitchen. We want to give you some tips for designing your outdoor kitchen and, therefore, make the absolute most of your outdoor experience this summer.
Dekton:
Dekton is a great choice for outdoor kitchens! This is a new-fashioned material from Dekton® by Cosentino®. It is composed of quartz, porcelain, and glass to create an ultra-compact surface. This material is UV-resistant for color stability in the sun, extremely durable, and unsusceptible to stains. In addition, it can withstand all climates, which is crucial in the Midwest. Dekton is resistant to thermal shock against heat, frost, and thawing, making it ideal for outdoor use.
Soapstone:
Soapstone is an adequate material for outdoor kitchens as well. It is a natural stone that is very dense and resistant to high temperatures and stains, allowing it to withstand the elements. It does not require a sealer; however, is should be treated periodically with mineral oil to enhance the darkening/aging process of the stone.
Granite:
If you are partial to granite, the good news is that you can still use it with your outdoor kitchen. Select colors can fade with UV exposure; however, most granite is durable enough to withstand the elements. Since we use DryTreat for our sealer on granite, re-sealing is only required every 15 or 25 years. Our 15 year is standard on all of our granite sold, but the 25 year sealer comes at an additional cost.
Corian®:
Corian® can be used to customize your outdoor kitchen, as select Corian® colors are well suited for outdoor use. Although some colors are invulnerable to varying weather conditions, not all colors (such as the darker shades) are recommended. Certain colors are prone to fading with prolonged exposure to direct sunlight. For this reason, Corian® is perfectly okay to use outdoors, but the options are simply limited.
Quartz:
Quartz may be a fantastic material for indoor kitchens, but it is not recommended for outdoor use. This is because the colors are susceptible to fading after prolonged exposure to direct sunlight.
Laminate:
Laminate is advised against for outdoor use. This material can warp, fade, and discolor from the elements.
Although moving countertops outdoors does limit your material choices, there are still an abundance of beautiful, unique options to choose from! Cameo Countertops, Inc. would love the chance to help you design your very own outdoor kitchen that will show your personality in the most exquisite way possible.